Unilateral trade war is not only harmful to bilateral interests, but also to the common interests of people around the world, said Premier Li Keqiang while meeting with United Nations Secretary-General Antonio Guterres in Beijing on April 8.
"I've always believed that," Guterres said, acknowledging Premier Li's remarks. "Every country should stick to multilateralism, in which China has set a positive example."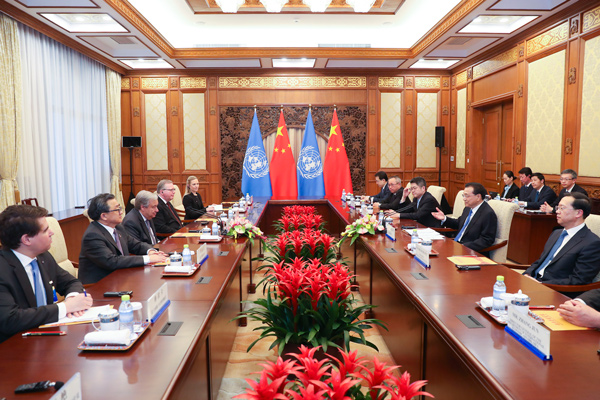 As the biggest developing country in the world, China is willing to take international responsibilities, advocate free trade and investment with the international community, and direct globalization on to a more open, inclusive, and balanced way, stressed Premier Li.
He said that the world economy maintains its recovering momentum, but the international situation is still in flux. "Therefore we must fight against unilateralism and protectionism, otherwise global trade will be seriously impaired, and the world economy will go stumbling."
Although globalization is facing many problems, they cannot be solved by either unilateralism or trade protectionism. Instead, it should be tackled with international cooperation and multilateralism, said Guterres.
For example, to reverse trade deficit, a country should enact reforms or adjust its economic structure, instead of triggering trade wars or taking protectionist measures, he added.
Unilateralism will threaten world peace and stability, Premier Li continued, saying that even if multilateralism triggers some problems, they should be amended through negotiation, rather than imposing one country's will over another.
He also emphasized the effectiveness of multilateralism in solving other international issues such as world peace. "I hope the UN will safeguard multilateralism, deliver a message to the world that only through multilateralism can the world become more orderly and civilized."
China will firmly support the key role of UN in international affairs, and make constant contributions to world peace and development.
"China is an important factor in maintaining international peace and cooperation," Guterres added, saying that the UN will cooperate with China in a more profound and comprehensive way.