Premier Li Keqiang has urged local governments to make more public services accessible via the internet, as a way to support people in grassroots and poor regions where high-quality resources are often harder to access.
He made the remarks on June 4 while visiting Yinchuan, the capital of Northwest China's Ningxia Hui autonomous region.
At a hospital in Yinchuan, Premier Li talked with community doctors and medical experts in Beijing, who treat patients via the internet, and encouraged them to serve as protectors of people's health.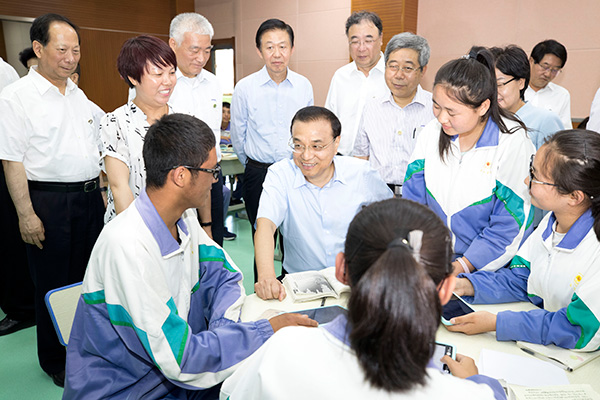 He also heard a report about the integration of the internet with healthcare services in the province. The service provided by a smart internet hospital in Yinchuan has covered all communities and townships in its district, making remote diagnosis possible.
While visiting a middle school, he hailed online education, saying that it will provide children in poor regions with access to lessons from good teachers, and broaden their horizons.
In the "smart classroom" of the school, all of the students held a tablet PC when showing the Premier their online lessons and study notes.
Premier Li said the government should invest more in rural areas' information infrastructure to resolve problems such as slow internet speed and insufficient capital.
He also asked about local teachers' income, and urged related departments to make sure that the average wage of teachers working in compulsory education be no less than that of other local public servants.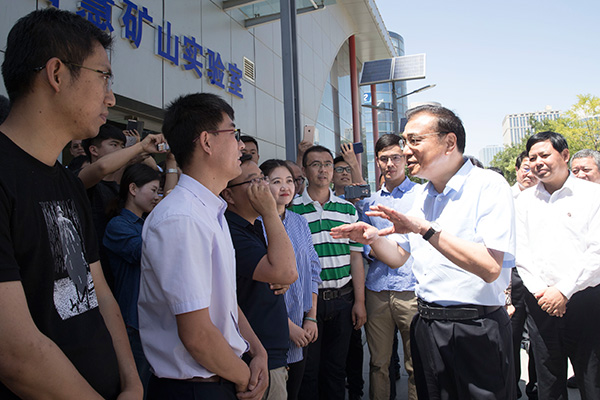 Education is crucial in providing a fair starting point, the Premier said.
In the Yinchuan iBi Yucheng Center, which is home to almost 500 startup enterprises, Premier Li heard that intelligent recognition technology that was independently developed by the intelligent mine laboratory, had been applied in remote control safe mining and brought down energy consumption. He talked with the entrepreneurs, including returnees and demobilized officers, and encouraged them to build a wonderful life through wisdom and labor.
One young man said the Premier visited his parents as an example of a poor household six years ago but noted that his family has now become better off after starting a business.
Premier Li said: "More effort should be made to create a better environment for entrepreneurship and innovation and urge more young people to give full play of their intelligence."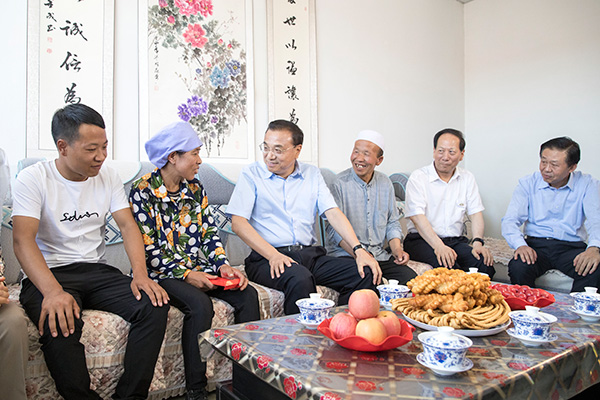 Premier Li also visited villagers who moved here from Shangqingshi, a village in Guyuan city, where the Premier visited several years ago. With relocation, all the 700 households have gotten out of poverty.
The villagers had lived a hard life with problems in water supply, they told the Premier. Now they live in big houses, with access to tap water, and are earning more money. Premier Li encouraged them to get rich by working hard.