Premier Li Keqiang and French Prime Minister Edouard Philippe attended a roundtable of Sino-French business leaders on June 25.
Leaders of more than 30 Chinese and French enterprises in such fields as manufacturing, energy and finance attended the roundtable and discussed issues including China-France trade and investment.
The two government leaders listened to the speeches of the representatives of entrepreneurs and exchanged views with them.
Premier Li said China and France have a traditional friendship, and the enterprises of both countries have a foundation for long-term cooperation and enjoy vast space for development.
China will open wider to the world, said the Premier, adding that the opening-up itself is to safeguard and promote the free trade system, which will create more opportunities for enterprises from all over the world.
China welcomes French enterprises to seize the opportunity and further expand cooperation with China, he said.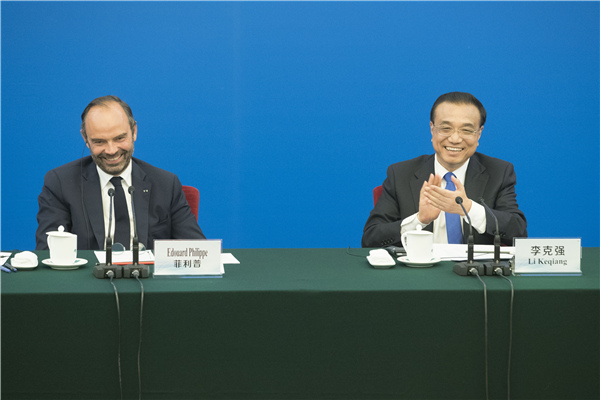 In response to a question about China-France high-tech cooperation, Premier Li said China welcomes French enterprises to enhance high-tech cooperation, and confirmed that China will protect intellectual property rights and not allow coercive technology transfers.
In response to the issue of personnel exchanges, the Premier said China is making efforts to promote reform and opening-up; offer more convenience to entrepreneurs and businessmen from other countries, including France, to carry out business activities in China; and expand personnel exchanges for future pragmatic cooperation.
The purpose of the roundtable is to gain insight into and address issues of concern to business circles of both countries, said the Premier, who expressed hopes that the two governments will positively respond and handle these issues and therefore make the bilateral cooperation smoother.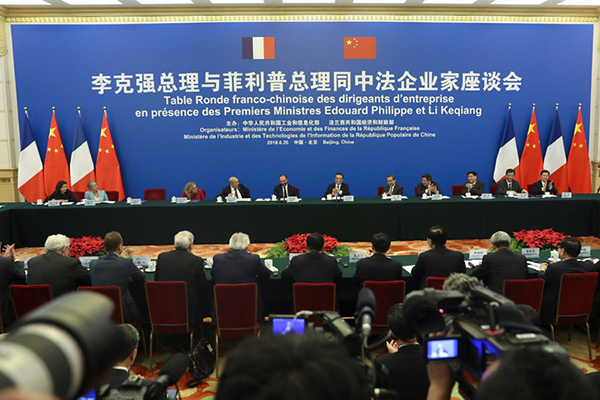 Philippe said France is pleased with the cooperation results reached between enterprises of both countries, and supports discussion and cooperation in an open and frank manner.
He encouraged enterprises of both sides to explore new fields of cooperation, with small and medium-sized enterprises being the key players.
He also welcomed the Chinese side to expand investment in France.