Premier Li Keqiang met with Tadamori Oshima, speaker of the House of Representatives of the Japanese parliament, in Beijing on July 24.
Premier Li said healthy and stable China-Japan ties will not only benefit the two countries and their peoples, but also contribute to world peace, stability and prosperity.
This year marks the 40th anniversary of the signing of the China-Japan Treaty of Peace and Friendship, he said, hoping that the two sides will implement the various consensuses reached in accordance with the principles and spirit of the four political documents signed between the two countries to push bilateral relations forward along the right track.
Against the backdrop of rising trade protectionism and anti-globalization, China and Japan – as the world's two major economies and beneficiaries of free trade – should jointly safeguard multilateralism and a rules-based international order and free trade system, according to the Premier.
He added that China will open up further to the outside world and further ease market access. Companies from all over the world, including Japan, are welcome to expand cooperation with China.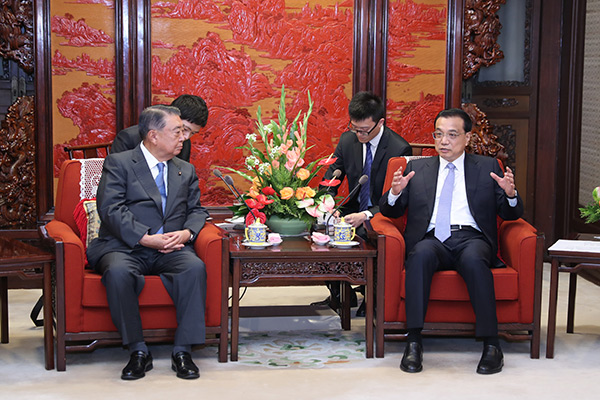 Premier Li stressed that China is willing to strengthen dialogue and cooperation with Japan on innovation and develop third-party market cooperation to achieve win-win results.
He hoped that the two sides will continue to make good use of the parliamentary exchange platform, strengthen exchanges between both legislatures, enhance mutual trust, and consolidate the public opinion foundation for the development of bilateral relations.
Tadamori Oshima said that Premier Li's recent successful visit to Japan and the fruitful talks with Japanese Prime Minister Shinzo Abe have pushed Japan-China relations back to the right track.
Japan is willing to promote bilateral relations in line with the principles of the four political documents between Japan and China and in the spirit of drawing lessons from history and future projections, and it is the responsibility of both sides to pass on these principles to the next generation, he said.
He said Japan is willing to strengthen exchanges with China in various fields, such as legislature, so as to jointly promote bilateral relations.