Premier Li Keqiang wished for permanent unity among all ethnic groups during a visit to Jokhang Temple in Lhasa, capital of Tibet autonomous region, on July 26.
He visited a life-sized gilt bronze statue of the 12-year-old Shakyamuni brought back by Princess Wencheng of the Tang Dynasty (618-907), who tied the knot with Tibetan King Songtsen Gampo, as well as the Palace of Songtsen Gampo. Then the Premier made his way to the Tang-Tubo Alliance Monument, which marks the meeting between Tang and Tubo. Standing outside the Jokhang Temple, the monument boasts a history of 1,200 years.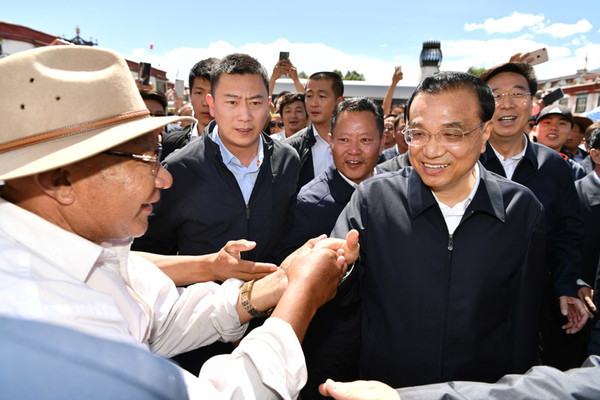 Premier Li asked the tourists there whether they were aware of what the monument was. After the visitors responded aloud to his question, the Premier said that he hoped the great national unity will develop for numerous years to come, just like the monument, impervious to the changes over time.