Premier Li Keqiang said China is willing to promote a long-term, stable and healthy China -Malaysia comprehensive strategic partnership, while meeting with Malaysia's Prime Minister Mahathir Mohamad in Beijing on Aug 20.
The Premier said China and Malaysia, as important developing countries in Asia, are natural partners. "As the two countries have each formed a new government this year, the bilateral relations stand at a new starting point."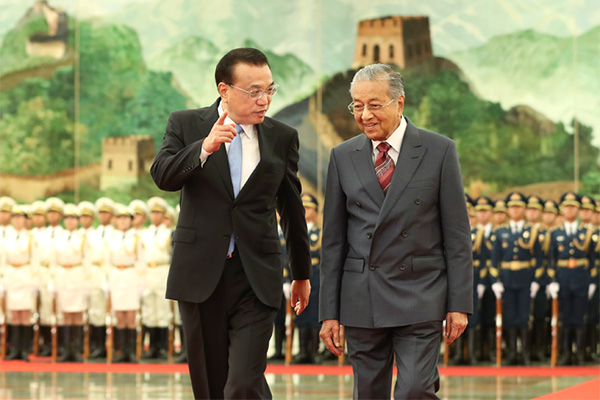 China and Malaysia have complementary economies and vast cooperation potential, he said.
China is ready to connect the Belt and Road Initiative with Malaysia's development strategies, promote economic cooperation in various sectors such as investment, agriculture and infrastructure.
The Premier said China is willing to import more quality products from Malaysia for domestic consumers, enhancing convenience in bilateral trade.
He encouraged creditworthy enterprises in both countries to expand two-way investment, urging both governments to provide a good stable business environment.
China is ready to expand cooperation with Malaysia in sci-tech innovation, automobile, finance and e-commerce, he said.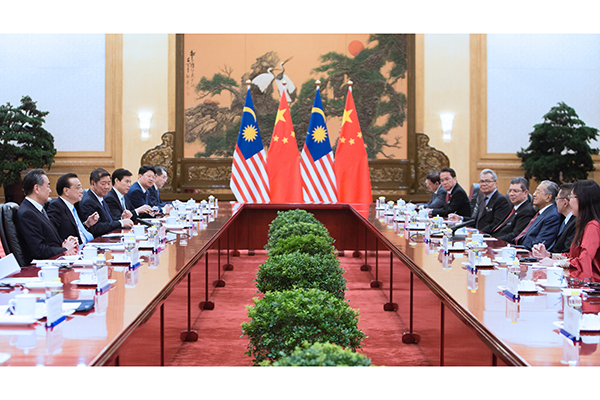 As Malaysia is a significant member of ASEAN, the development of China-Malaysia ties will not only benefit the two countries, but also benefit China-ASEAN ties, he said.
"Under the current background of rising unilateralism and protectionism, China is willing to work with ASEAN countries, including Malaysia, to uphold multilateralism and free trade, promote the construction of an East Asia Economic Community and contribute to building a peaceful, stable and prosperous region."
Mahathir echoed the sentiments, and said that China and Malaysia enjoy time-honored bilateral ties. China-Malaysia relations have been constantly reinforced ever since its establishment. Being the very first state visit to a non-ASEAN country in his second term and his eighth visit to China as the Malaysian prime minister, this visit will mark a new milestone in Malaysia-China ties and hopefully usher in win-win cooperation in bilateral economy, trade and other fields.
Trade protectionism is historic regression. Founded on the basis of trade, Malaysia wishes to expand its imports to China, and it also opens its arms to investment from Chinese enterprises. Malaysia hopes that both parties could deepen cooperation in two-way tourism, innovation, research and development, and more, Mahathir said.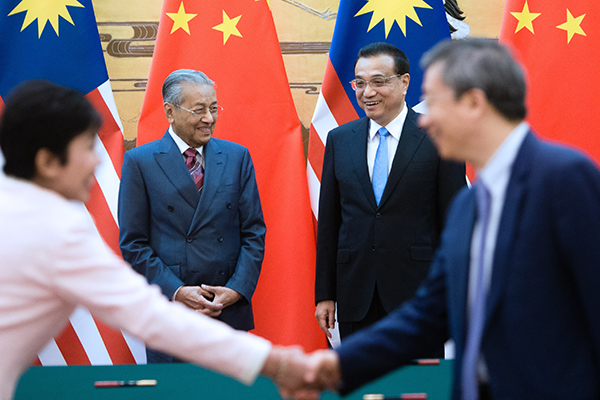 Malaysia actively roots for the Belt and Road Initiative, which is conducive to multilateral communication, cooperation, trade, and exchanges as well as relations between Asia and the West. Sound and stable China-Malaysian ties will not only benefit Malaysia but also beef up regional peace, stability, and prosperity, Mahathir added.
Additionally, the leaders exchanges views on international and regional issues concerning both parties.
Before the meeting, the Premier hosted a welcome ceremony for Mahathir at the Great Hall of the People.
After the meeting, Premier Li and Mahathir witnessed the signing of documents in wide-ranging fields, highlighting the economy and trade, agriculture, finance, and technology.
Wang Yi, state councilor and minister of foreign affairs, Wan Gang, vice chairman of the National Committee of the Chinese People's Political Consultative Conference (CPPCC), and He Lifeng, vice chairman of the CPPCC National Committee and head of the National Development and Reform Committee, also attended the meeting.