Premier Li Keqiang will attend the 12th Summer Davos Forum in Tianjin from Sept 19 to 20 and deliver a keynote speech.
As an "old friend" of the forum, Premier Li has delivered the opening speeches for five consecutive years. What important messages has the Premier delivered over the past five years? Let's review.
On the world economy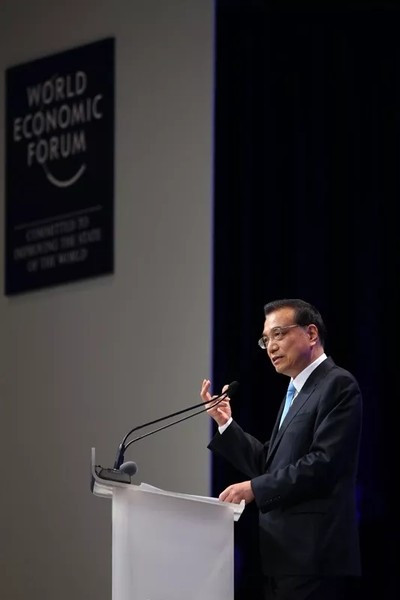 Premier Li Keqiang delivers a speech at the opening ceremony of the 11th Summer Davos Forum in Dalian on June 27, 2017.
2017 — Standing on the peak and looking into the distance, we saw the green hills were covered with mist, and blurred. But that was only temporary. The mist will eventually dissipate, and green hills stand forever. I associate this with the current world economy.
2016 — The stable recovery of the world economy requires efficient and orderly global governance. Only hand-in-hand can we face common challenges.
2015 — We live in the same world. Everyone is on the same boat in the era of globalization. To promote global economic recovery, the international community should strengthen coordination, jointly promote structural reforms and strive to construct a free, open, and non-discriminatory multilateral trade mechanism.
2014 — There should be no zero-sum game among countries. Instead, countries should be mutually beneficial and win-win. Only in this way can the world prosper and progress.
2013 — In today's world, with the in-depth development of economic globalization, world multipolarization, and social informatization, we live in a global village. No country can become a Robinson Crusoe who lives alone.
On China's economy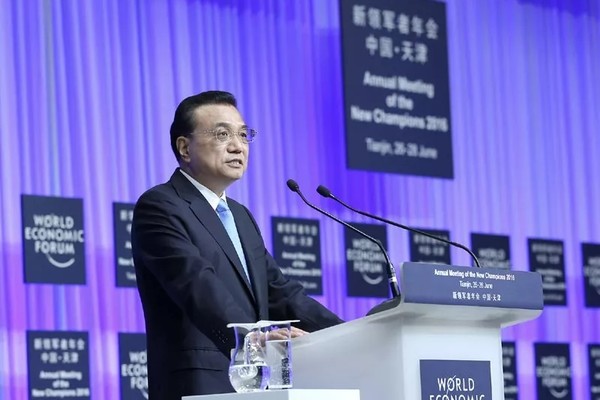 Premier Li Keqiang delivers a speech at the opening ceremony of the 10th Summer Davos Forum in Tianjin on June 27, 2016.
2017 — China is an active practitioner of inclusive growth, which also contributes to its stable development in a world with a sluggish economy.
2016 — China's economic growth has strong potential, plenty of advantages, huge space and a bright future. It has over 900 million laborers, of which more than 170 million have higher education or professional skills. The country sees 7 million fresh college graduates and 5 million secondary vocational education graduates annually. China ranks first in the number of scientific researchers and second in research input, which exceeded 1 trillion yuan last year. As the world's second-largest economy and largest manufacturing nation, China is also a major country for goods and service trades, as well as inbound and outbound investment. China is also the second-largest consumption market, with an expanding middle-income group and declining poverty rates in the rural population.
2015 — China's economy is strong and highly resilient. The Chinese people are working hard for a well-off society in 2020, which will bring together powerful social forces.
2014 — China is still a developing country, and development is the fundamental key to solving problems.
2013 — As long as we stand firm on our goals with a positive attitude to solve existing problems, the Chinese economy will sail far away, with healthy growth in the long run.
On reform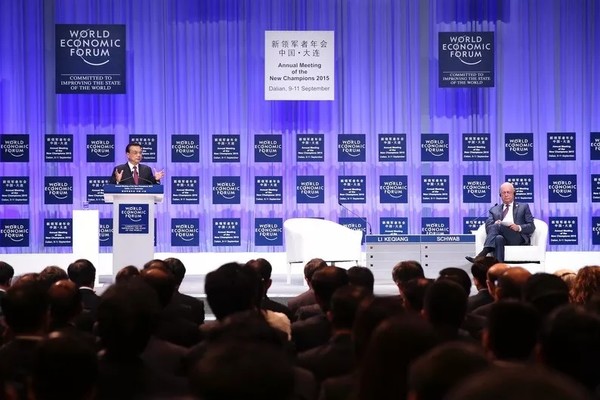 Premier Li Keqiang delivers a speech at the opening ceremony of the ninth Summer Davos Forum in Dalian on Sept 10, 2015.
2017 — We will comprehensively deepen reform, and release more vitality for economic development. The intensity of reform will be strengthened in important fields such as finance, taxation, State-owned enterprises and State-owned assets. We will streamline administration, cut taxes and fees, and reduce institutional costs and enterprise burdens.
2016 — We will deepen reform to promote economic transformation and upgrades. China achieved great results over the past 30 years through reform, which removed institutional barriers for economic growth. We will unswervingly deepen reform to stimulate market vitality and social creativity to a great extent.
2015 — We are deepening comprehensive reform, speeding up supply-side structural reform, and implementing an innovation-driven strategy. Efforts are also being made to activate economic potential and maintain medium-to-high speed growth.
2014 — There is no end for China comprehensively deepening its reform. The government takes the lead to reform itself. Once started, there is no turning back.
2013 — China's industrialization and urbanization have not completed. There's great market potential and leeway for regional development. Reform cannot be reversed, and it will release new institutional vitality. The Chinese people are diligent, intelligent and unyielding — which is the most important support for development.
On opening-up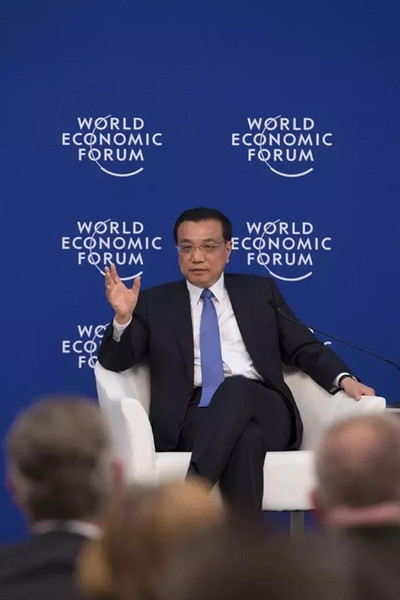 Premier Li Keqiang attends the eighth Summer Davos Forum on Sept 9, 2014.
2017 — We will actively expand opening-up and create a world-competitive business environment. The construction of a new open economic system will be accelerated to meet the needs of economic globalization and new industrial revolution. Market access for service and manufacturing industries will be expanded, and foreign equity limits in some fields will be eased. The negative-list management mode will be promoted and improved.
2016 — Whatever phase it has developed to, China needs to learn from other countries. In this way, an opening door will be opened wider.
2015 — China's reform is an opening-up process. It is also a process to gradually integrate into the world. China's door will be open wider. Our general policy toward foreign investment will not change. Specific policies tend to attract more foreign investment, and broaden more investment fields.
2014 — We adhere to a more proactive opening-up strategy, improve the open economy, attach importance to stable exports, actively expand imports, accelerate the opening-up of the service industry, border areas and the central and western regions, maintain foreign investment policy stable and strive to be more open.
2013 — Countries should further expand their mutual openness, clearly oppose all forms of protectionism and work together to make a bigger "cake" of the world economy.
On entrepreneurship and innovation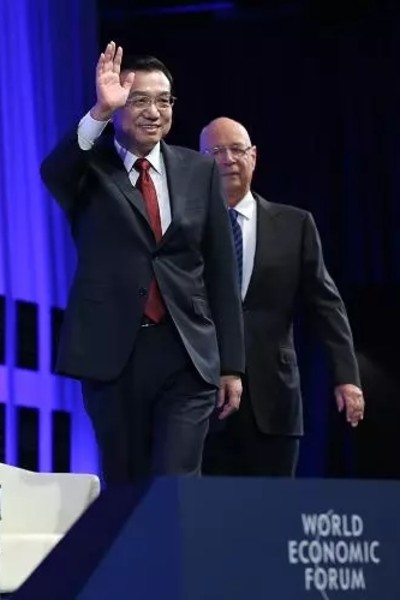 Premier Li Keqiang attends the opening ceremony of the seventh Summer Davos Forum in Dalian on Sept 11, 2013.
2017 — The participation of the general public and benefits for all are the core of inclusive growth. It is also a feature of entrepreneurship and innovation in China. In recent years, the nation's drive for mass entrepreneurship and innovation exceeded our expectations. It has wide participation, including enterprises and research institutions, as well as more and more individuals.
2016 — We will integrate elites and the grassroots, online and offline innovation, and enterprises and research institutions through mass entrepreneurship and innovation.
2015 — Mass entrepreneurship and innovation is a strong powerhouse of China's development. The nation has more than 900 million laborers and over 7 million new college graduates each year. More and more people are getting involved in this drive to generate new supply and demand.
2014 — China's economic progress relies on innovation, which goes beyond technical innovation and includes innovation in institutions, management and modes.
2013 — We are living in a changing world that calls for innovation. The measures of the Chinese government all start from reform and innovation.