Bilateral trade negotiations should stick to the principles of multilateralism, Premier Li Keqiang said while responding to Stein Erik Hagen, chairman of Norway's Orkla Group, at the 2018 Summer Davos Forum in Tianjin on Sept 20.
Hagen asked about China's measures as the world trade governance system, strutted by the World Trade Organization, is being threatened by bilateral trade negotiations among developed countries.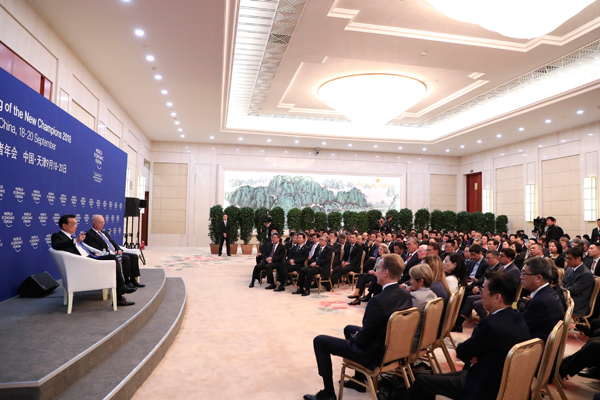 In response, Premier Li said China is glad to see the bilateral trade negotiations generate positive results, as long as they comply with the globalization trend and free trade principles. Bilateral and multilateral trade rules are complementary, said the Premier, adding that bilateral trade has existed for long in the world and China also has bilateral trade negotiations with some countries.
However, under the current situation, rising protectionism and shaken multilateralism trade principles cannot be neglected. Multilateralism is the consensus reached by most countries in the world and has been implemented for many years. It stands up for free trade, so any bilateral trade should maintain the principles of multilateralism.
The immense progress humans made over the past decades largely relied on the peaceful international situation and free trade. "Therefore, this principle must be well-guarded for our coexistence," the Premier said.
If the principle is broken because of the interest of a few countries, then all countries' interests may be harmed, he added.
Indeed, the Premier said, the current multilateral trade principles do have their problems, but negotiations can make them more inclusive and adaptive to the global development.
Negotiations and reforms should be based on original principles, taking care of the interests of all countries, especially those developing and least developed ones, he said.
As each country is working on both development and fairness, to help people in poverty, multilateralism should also strive for such a balance, which is to maintain the economic recovery and to narrow the gap between the developed and underdeveloped countries.
China welcomes reform on world trade principles, and has reached a consensus with the European Union to establish a work team.
"We hope negotiations and discussions on issues of common concern can benefit all sides involved," said the Premier.