Premier Li Keqiang met with Japanese business leaders and former senior officials in Beijing on Oct 10.
The Japanese delegates are in China to attend the fourth round of Sino-Japanese Entrepreneurs and Former High-level Officials Dialogue.
Noting that this year marks the 40th anniversary of the signing of the China-Japan Treaty of Peace and Friendship, the Premier said with joint efforts, China and Japan have built greater momentum in improving their relations.
He said he hopes that the two sides will follow the principles embedded in the four political documents and adhere to the spirit of taking history as a mirror and looking into the future, working together to promote continued and stable development of bilateral ties.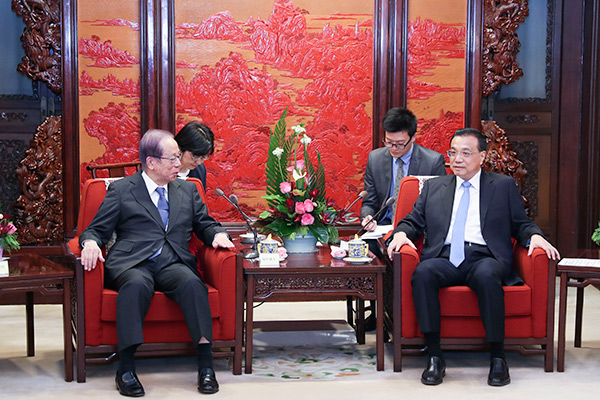 Premier Li said China and Japan are among the world's major economies, therefore deepening their economic and trade cooperation is conducive to both sides, as well as global economic and trade development.
He said he hopes the two sides will tap complementary advantages, enhance cooperation in trade, investment, finance, innovation and high technologies, jointly explore a third market, and safeguard the system of multilateralism and trade liberalization.
China will continue its opening-up, and welcomes Japanese enterprises to invest in the country, to play a positive role in increasing China-Japan exchanges and cooperation, push ahead with healthy and stable development of bilateral ties, and achieve sustainable prosperity, the Premier added.
The Japanese side thinks highly of Premier Li's successful visit to Japan in May, which put China-Japan ties back on the right track, according to the former Japanese prime minister Yasuo Fukuda, Chairman of the Japan Business Federation Hiroaki Nakanishi and other Japanese delegates.
Regular communications between Chinese and Japanese business circles on various platforms have played an active role in promoting mutual understanding and cooperation, they said.
The Japanese side would like to work with China to negotiate on cooperation in innovation and exploring the third-party market, and enhance coordination in issues of common concern, such as environmental protection and aging, they added.
State Councilor Wang Yi also attended the meeting.