The Dutch battery manufacturer Vaux decided to invest $1.85 billion in China to set up a new energy lithium battery super engineering project in the Yangtze River Delta region and establish an R&D base in China.
The investment is only one of the deals worth a total $10 billion cemented in a signing ceremony witnessed by Premier Li Keqiang and Dutch Prime Minister Mark Rutte. The Vaux cooperation agreement was signed on Oct 16, which immediately drew attention from media around the world.
Bloomberg quoted the head of Vaux as saying that the factory will be put into operation in 2021, with an annual output of 8.0 Gwh, which can provide batteries for 160,000 electric vehicles.
Reuters said it was the second factory in which the company has invested in China.
Before the China-Netherlands Business Forum on Oct 16, Royal Dutch Shell and China National Offshore Oil Corporation (CNOOC) signed an agreement witnessed by Premier Li and Prime Minister Rutte, to build a project in three phases in China with a total investment of tens of billions of US dollars.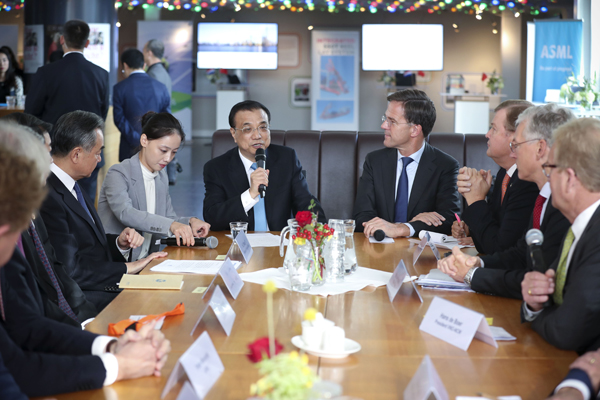 KLM Royal Dutch Airlines and Xiamen Airlines signed a memorandum to upgrade cooperation on aircraft maintenance, in the amount of 2.8 billion yuan ($400 million).
The Dutch International Group and the Bank of Beijing signed a cooperation agreement for the establishment of a joint venture direct bank in China for a total amount of 3 billion yuan.
Information shows that the two leaders have witnessed the signing of eight cooperation agreements between enterprises from the two countries, which covers energy, finance, aviation, agricultural science and technology, for a total amount of about $10 billion.
"These agreements show that Dutch companies are willing to expand investment in China in areas where they are strong, and Chinese companies are willing to carry out wider cooperation with the Netherlands," Premier Li said, adding that "the two governments will create a good business environment for enterprises, and hope that the agreement worth nearly $10 billion will eventually become a reality."
Dutch national television said that companies in the Netherlands and China held an "exciting" signing ceremony witnessed by the two prime ministers.
Algemeen Dagblad of the Netherlands said that Dutch companies raced to shake hands with the Chinese premier during his visit in Netherlands, because they think China will provide great opportunities to them.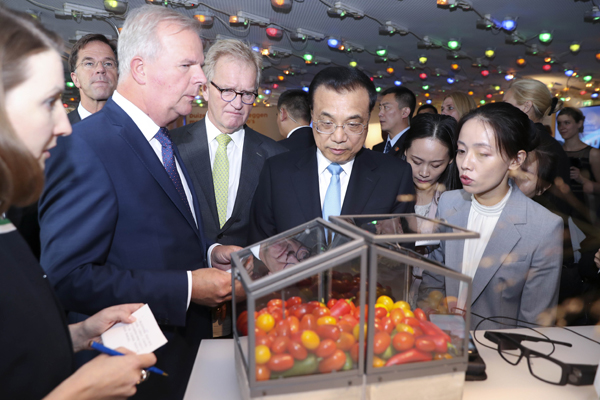 To Dutch entrepreneurs, China's market with great potential and the country's widening opening-up policy and improving business environment are key for them to "vote with their feet." At the round table meeting on Oct 16, business executives from KLM Royal Dutch Airlines, Vaux and Shell Group all agreed that China is an important market and its government works with higher efficiency and faster approvals.
During Premier Li's visit to Germany this July, the Premier and German Chancellor Angela Merkel witnessed the signing of the agreement between China and German chemical company BASF Group, which decided to invest 10 billion Euros in China.
In early September, Premier Li met with Darren Woods, CEO and chairman of ExxonMobil. The company decided to invest $10 billion to construct a petrochemical project.
During this visit in the Netherlands, Premier Li has expressed his attitudes to the media from all over the world, saying that China is willing to create a market-orientated, legal and international business environment for enterprises from all countries and of any ownership.
China sticks to its opening-up policy and has treated all enterprises equally. The Chinese economy is aimed for a high-quality development with huge market potential and all enterprises, including Dutch ones, are welcome to seize development opportunities and expand cooperation in the country, the Premier said.