Premier Li Keqiang and Japanese Prime Minister Shinzo Abe met the press at the Great Hall of People in Beijing on Oct 26.
Talking about the results of the meeting held between them, Premier Li said the fact that China-Japan relations are back on the right track shows the two peoples have been looking forward to good ties with mutually beneficial development. The closer relations also met the expectations of regional countries and the international community to jointly maintain peace and stability and tackle challenges.
Premier Li said he hopes the two sides will use the visit as an opportunity to make new progress in the bilateral ties, which are headed in the right direction.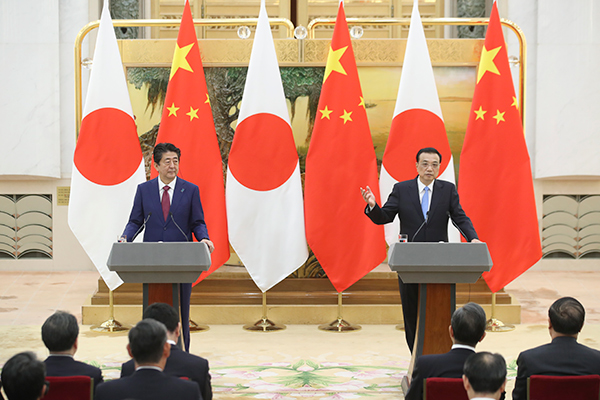 He said both sides recognized that they will follow principles of the four political documents, appropriately handle past issues and question concerning Taiwan, and maintain the political basis for China-Japan relations.
The two sides will implement the political consensus that China and Japan are cooperation partners, not a threat to each other, and the two countries will support each other's peaceful development, Premier Li said.
They will also control and manage differences in a constructive manner, he added.
He said they will continue to strengthen good interactions, bear in mind the spirit of looking forward to the future with history as a mirror, and promote sustainable improvement of the ties.
The two sides agreed on consensus that they will enhance high-level China-Japan relations, and continue to communicate through China-Japan high-level political and economic dialogues.
Facing a new round of industrial revolution, China and Japan should make good use of their comparative advantages, conduct practical cooperation at higher level, promote collaboration in technological innovation, energy-saving and environmental protection, elderly care and medical treatment, and finance, and continue exchanges in diplomacy, macro-economy, finance, business, culture and defense, the Premier said.
He called for the two sides to enhance people-to-people exchanges. Premier Li and Abe also designated the year of 2019 the exchange year for Chinese and Japanese teenagers, and took hosting the Olympic Games as an opportunity for more communication and cooperation.
Under current international circumstances, China and Japan should maintain free trade and oppose protectionism, accelerate negotiations of China-Japan-South Korea free trade area and Regional Comprehensive Economic Partnership (RECP), promote economic integration in the Asia-Pacific with practical acts, Premier Li said.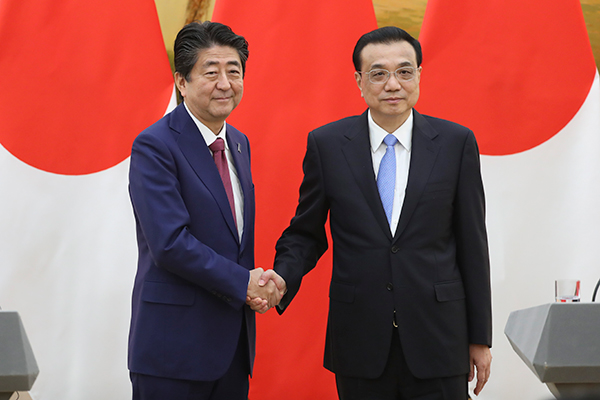 Abe said he and Premier Li exchanged visits in six months and China-Japan relations have entered a new era, from competition to coordination.
The two sides reaffirmed the principle of being each other's good neighbors and partners, not threats, and will put that into practice, Abe said.
The Japanese side is willing to work with China to tap the third-party market and enhance cooperation in technological innovation, in order to reach closer relationship through vigorous trade and personal exchanges.
Japan will take major responsibilities for current global major challenges, and would like to join hands with China to play a constructive role in international peace and prosperity.
State Councilor and Foreign Minister Wang Yi attended the press conference.