Premier Li Keqiang on Nov 6 held a roundtable meeting in Beijing with the leaders of six major international economic and financial institutions.
The six leaders were: World Bank President Jim Yong Kim, International Monetary Fund Managing Director Christine Lagarde, World Trade Organization Director-General Roberto Azevedo, Organization for Economic Cooperation and Development Secretary-General Angel Gurria, Financial Stability Board Chairman Mark Carney, and International Labor Organization Deputy Director-General Deborah Greenfield.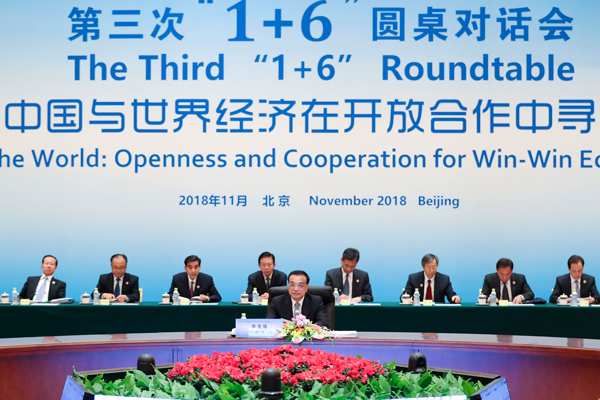 With the topic of promoting win-win results between China and the world in an open economy, Premier Li and the other leaders had in-depth exchanges on the current global economy and the multilateral trade system.
Premier Li said the roundtable meeting has coincided with the 40th anniversary of China's reform and opening-up, and the 10th anniversary of the international financial crisis.
In the past 10 years, he said, the international community has been pressing ahead with joint efforts amid challenges and difficulties.
Despite the recovering trend, the world economy is still facing risks, Premier Li added.
According to the Premier, globalization is experiencing setbacks with rising risks of trade frictions and negative influence on international economic cooperation.
"This will not only impact the growth of world trade, but also shake the market confidence in multilateral trade and globalization," Premier Li said.
At the same time, the Premier said, the fluctuating global financial markets, liquidity risks, and differentiation of various economic sectors are making global growth unstable.
Premier Li said that the global economy has reached a new milestone. China is willing to face challenges and risks in an optimistic manner with all parties concerned, including the six international financial institutions.
China remains a stickler for opening-up and multilateralism, in order to further globalization. Meanwhile, all parties should make efforts to underpin multilateralism, facilitate globalization, and jointly construct an inclusive global economy, Premier Li said.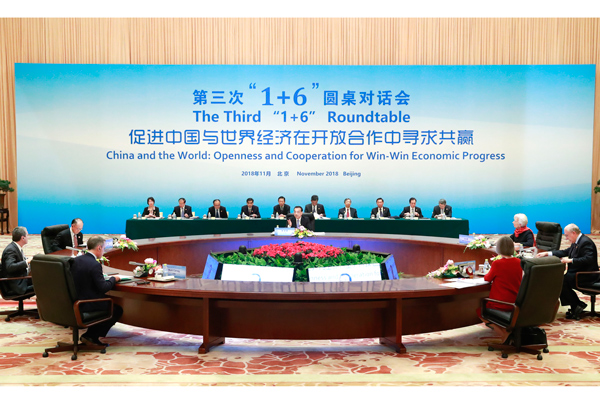 All parties should also make efforts to step up communication and coordination on monetary and exchange rate policies, fiscal policies, and financial supervision reform. They should also help emerging economies steer away from global economic impacts, in order to jointly safeguard the progress of global recovery and a stable financial status.
It is also a necessity for all nations to propel the progress of economic reforms. Joint efforts should be made to push forward the implementation of structural reform and bring emerging economic drivers into full play.
China will also speed up implementation of the 2030 sustainable development agenda and address a slew of social problems, the Premier added, including poverty, unemployment, and the expanding wealth gap, in a bid to spread the benefits of economic growth and technology improvements far and wide.
In addition, Premier Li said, China will stay a steadfast supporter of all international institutions in beefing up management system reforms, playing a bigger role worldwide, and letting new economies have greater say in international economic management. In so doing, the updates in global economic structure will be truly mirrored.
The multilateral trade system with WTO at the core lays the foundation for international economic and trade development, the Premier stressed. However, WTO is facing its own challenges.
China agrees to improve the current system on the premise of free trade. Therefore, basic principles such as openness, transparency, inclusiveness and nondiscrimination should not be changed, the Premier said.
All parties should participate and search for common ground. The interests of developing members should be safeguarded to narrow the gap between the developed and underdeveloped.
Pressing matters of the moment must be resolved to re-establish the international society's confidence in WTO. Candidates for WTO dispute settlement institutions should be nailed down as soon as possible, he said.
The heads of the international economic and financial institutions acknowledged the unstable elements of the world economy, saying that the growing momentum is being contained, with more downward risks, especially when protectionism stands out and multilateralism takes a blow.
They said trade tensions lead to negative effects on people's confidence over investment and development, and debt issues and tightening policy of developed countries worsen the situation. Multilateralism is the only answer, which can resolve cross-border problems like trade, immigration and climate change.
Therefore, the heads agreed, multilateralism must be maintained. The existing multilateral mechanisms should be improved, not overturned. Reforms must be adopted to tackle new challenges.
Each major economy should speed up their economic restructuring to promote investment environment and governance system.
State Councilor and Secretary-General of the State Council Xiao Jie also attended the meeting.