Premier Li Keqiang chaired a symposium to seek advice from experts and business leaders on the draft of the government work report for 2019 on Jan 15.
Premier Li heard suggestions from six experts and business leaders, including Yu Yongding from the Chinese Academy of Social Sciences, Ma Huaide from China University of Political Science and Law, Tao Dong from Credit Suisse, Jack Ma, co-founder and executive chairman of the Alibaba Group, Liu Mingzhong from China First Heavy Industries and Chen Tianshi from Cambricon Technologies Corp.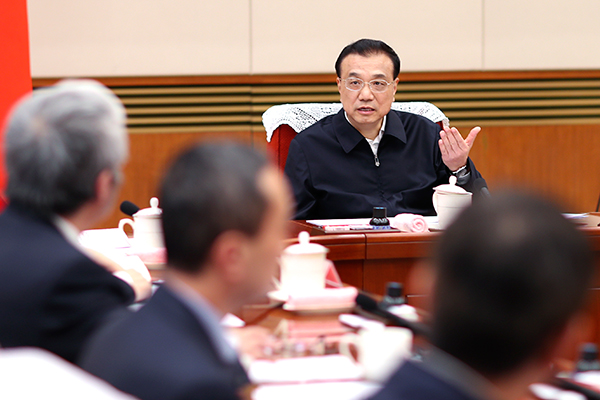 The representatives said that against the complicated situation at home and abroad, the Chinese economy maintained stable growth in 2018, with people's livelihoods improving.
Suggestions were given to the Premier on maintaining the economy's growth, promoting the building of a government based on the rule of law, adjusting macro policies, relieving enterprises' difficulties, enhancing equipment manufacturing standards and advancing artificial intelligence.
Premier Li exchanged ideas with the attendees, and urged related departments to study and solve the problems mentioned in the reports.
He said with increasing downward pressure on the economy this year, lack of confidence in some aspects may affect market expectations, which should be given great importance and planned for with full preparations.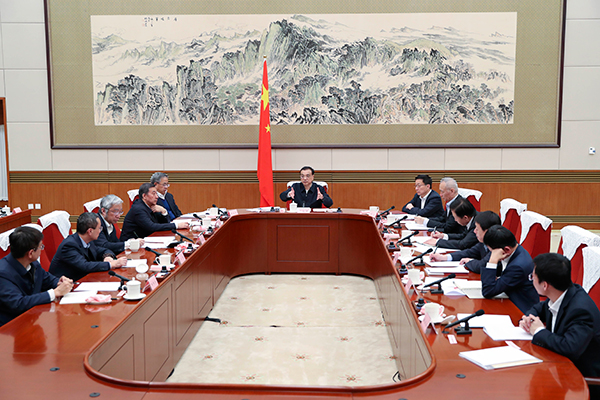 Under the guidance of Xi Jinping Thought on Socialism with Chinese Characteristics for a New Era, the government should follow the general principle of pursuing progress while ensuring stability, deepen supply-side structural reform, speed up the transformation of the growth model and innovate and improve macro control, the Premier said.
He called on the government to be adept with various macro policy tools, enhance targeted, well-timed, and precision regulation and offset outside uncertainties with stable, targeted and effective macro policies. The government should further deepen reform and opening-up, keep the economy running within a reasonable range and promote high-quality development.
More efforts should be made in creating a comfortable and fair business environment for market players, especially private companies and small and micro-sized enterprises, Premier Li said. Reform of delegating power, strengthening regulation, and improving service will be further promoted, with more taxes and fees to be cut, and financing difficulties to be resolved.
He stressed boosting innovation-driven development and the internal forces driving development, fostering new driving forces for economic development and upgrading traditional industries. Related departments should conduct regulation in a tolerant and prudent way and support the healthy development of new industries, new forms of business and new models, which will greatly help expand employment.
Domestic demands should be further stimulated by increasing effective investment in public service and infrastructure facilities, Premier Li added.
Vice-Premiers Han Zheng, Hu Chunhua and Liu He, and State Councilors Wang Yong and Xiao Jie also attended the symposium.