Premier Li Keqiang said at a symposium on Jan 18 that it is the government's indispensable procedure to solicit advice from all walks of life, and to draft a government work report in line with public opinion.
At the symposium, seven representatives from education, technology, culture, healthcare and sports circles, as well as the grassroots shared views on the draft of the government work report.
Premier Li said China has seen new achievements in economic and social development over the past year, and the government is open to the opinions of attending representatives to better solve issues that most concern people.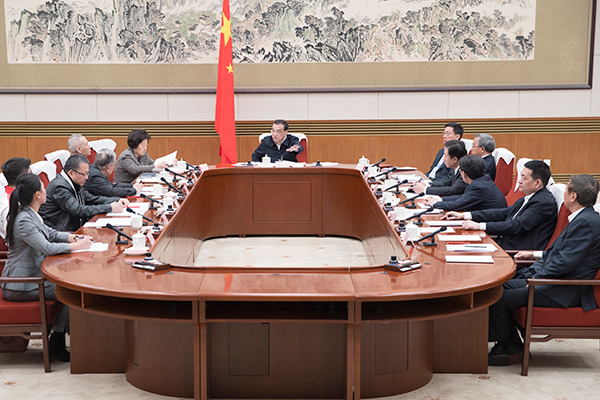 Education concerns every family
Yang Fujia, president of the University of Nottingham Ningbo China, suggested developing a variety of higher educational institutions to meet the country's needs.
Besides research-oriented universities, general universities and higher vocational colleges should be supported, to develop education that meets the needs for social development and makes it fairer and more qualified, Yang said.
Agreeing with Yang's opinion, Premier Li exchanged views with him on developing a variety of vocational education and higher educational institutions.
Premier Li stressed raising age limits for receiving education and enhancing people's qualities. The average amount of education received by China's working-age population — comprising about 900 million workers and 170 million people who received higher education or have professional skills — has reached 10.5 years.
Xue Qikun, president of Tsinghua University, voiced his opinions on innovation in science and technology and their integration with education.
Premier Li said innovation in science and technology is key to China's development, and basic research decides how far and deep the innovation can be.
He said efforts should be made to tap researchers' potential, and encourage them to enhance basic research and break through barriers that hinder development.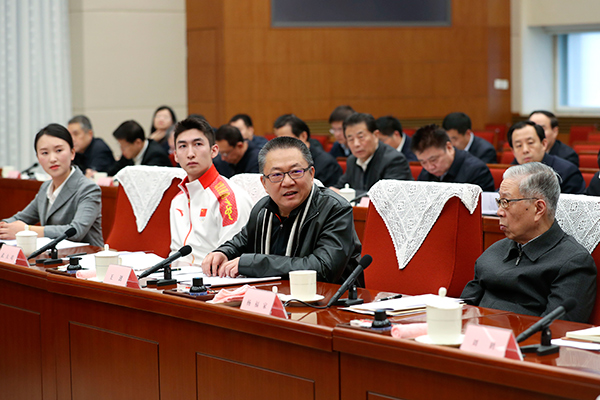 Craftsmanship needs improvement
Wang Shu, dean of the College of Architecture and Art under the China Academy of Art, made suggestions on protecting urban and rural architectural features and inheriting the spirit of craftsmanship, saying that both traditional craftsmanship and high-level craftsmen are not handed down. Wang expressed hopes that the government could support training on traditional architectural techniques.
Premier Li said that China, as a building giant, has witnessed rapid development in architectural design and engineering construction in recent decades, but still lags behind in craftsmanship and its inheritance.
The Premier urged enhancing vocational education development, cultivating a large number of craftsmen from all walks of life, and promoting the spirit of craftsmanship in such areas as the manufacturing and the service industry to provide better support for high-quality development.
Feng Gong, head of China Broadcasting Performing Arts Group, proposed suggestions on improving social governance and promoting the healthy growth of the film and television industry through rule of law.
Echoing his suggestion, the Premier said that social governance needs both improved law systems and the power of cultural cultivation and moral ideas.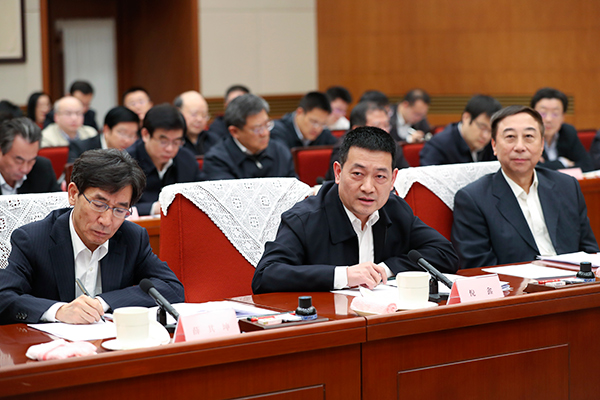 No more expired vaccines
Ni Xin, director of Beijing Children's Hospital, Capital Medical University, pressed for prevention and control measures for children's chronic diseases during his speech.
The healthcare sector should be subject to the rigid supervision of the society, and management of vaccines should be further cemented. A sense of gain, spurred by the reduction of drug prices, should be taken into consideration as well, he said.
Premier Li inquired about children's chronic diseases and urged that concerned departments should promptly conduct research about the issues.
"A substantial reduction in the prices of drugs for chronic diseases should come into place and benefit the patients," the Premier said. "Stringent supervision on vaccines should be guaranteed, leaving no chances for any expired vaccines to stage a comeback."
Referring to suggestions on skating-related sports raised by Wu Dajing, the head of the national team for short-track speedskating, Premier Li said that the preparation for the 2022 Beijing Winter Olympic Games will be a golden opportunity to step up skating-related sports. It will conceivably promote the overall health of the people.
Further approaches to help farmers amass wealth
Cai Xue, a director of a cooperative specializing in rice from Shulan city, Northeast China's Jilin province, boasts 50 household members, approximately 2.800 mu (42 hectares) of areas for planting rice and an additional sum of annual income worth 3,000 yuan ($442) for each household.
She suggested that the government should beef up market supervision on organic and green agricultural products and improve the motivational mechanisms for rural talent.
"The concerned departments should take a leaf from the book of their international counterparts in terms of the protection methods for source areas and trademarks," the Premier said, "With online tracking technologies and testing equipment supplies, the government should promote the benign development of premium organic agricultural production."
A further string of approaches should be introduced to help farmers acquire wealth. The government should support promising youngsters to become agricultural professionals, Premier Li said.