Premier Li Keqiang held a dialogue on March 28 with representatives from fields of business, finance, media and think tanks attending the 2019 Boao Forum for Asia annual conference. More than 200 guests from around the world attended the event.
Ban Ki-moon, chairman of the Boao Forum for Asia, and members of its board of directors praised the dialogue as "the most important, most beneficial activity of this year's annual conference".
"With rich content and deep thought, Premier Li Keqiang's response helps us better understand China's development and its domestic and foreign policies," he said.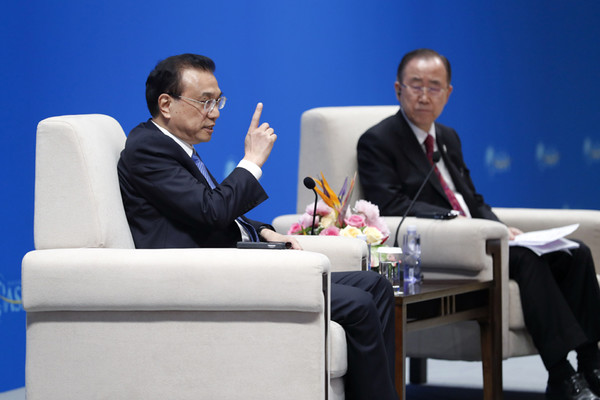 Quicker approval of drugs for sale to benefit patients
Leif Johansson, chairman of global biopharmaceutical giant AstraZeneca, said that China's cordial dedication to reform and opening-up impressed him the most at the Boao Forum for Asia annual conference.
Premier Li Keqiang's reference to the Chinese government's resolve to better protect intellectual property rights reinforced AstraZeneca's confidence in research and development in China. Johansson said that he would like to follow up with China's policies in the field of medicine.
"China has tremendous potential in the market of medicine," Premier Li said. "All the foreign drug makers are more than welcome to expand their investment in research and development in China and produce safer medicine catering to Chinese people's physical conditions."
Intellectual property rights protection is not only an international rule that China should comply with to appeal to foreign investment, but also a domestic need that China requires to progress with its economic restructuring and upgrading, as well as innovative development, Premier Li said.
Enterprises of every kind will enjoy a law-based, level playing field in China.
"China will introduce another round of powerful measures to substantially speed up the approval of drugs for sale," the Premier said.
"Foreign enterprises will not only enjoy broad prospects but also fair treatment in China. Whenever you encounter any annoyance, you can, by all means, report them to the Chinese government," the Premier said.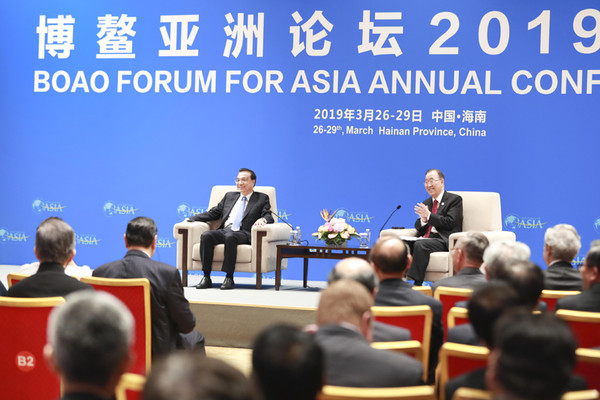 Urgent need to rebuild China-US mutual trust
Myron Brilliant, executive vice-president and head of international affairs at the US Chamber of Commerce, said that China-US relations pine for exertion to beef up cooperation and mutual trust.
As one of the most significant commercial organizations, the US Chamber of Commerce wishes that both parties could reach a speedy consensus on the issues of economy and trade, along with the corresponding practical implementation. That will benefit bilateral relations, as well as the whole world.
Being the largest developing and developed countries respectively, China and the US have witnessed a fruitful development of bilateral ties over the past 40 years, conducive to global stability and development, and both peoples' wellbeing.
Against the backdrop of certain discord between the two nations, the Premier said, China and the US should demonstrate that their relations will stay on stable and healthy terms.
Both sides should work hand in hand to deter their relations from being undermined by a trust deficit, or that would incur inconceivable detrimental consequences to each other.
According to the consensus reached by the heads of China and the US, both teams of economy and trade have engaged in multiple rounds of fruitful negotiations, which will bring about positive results on a footing of mutual respect, equality and mutual benefit, in line with both peoples' interests and the expectations of the world.
"As an old Chinese saying goes, those who are 40 years old are no longer susceptible to perplexities. Boasting 40 years of establishment, China-US ties call for prompt stringent implementation of the protocols reached by both sides," the Premier said.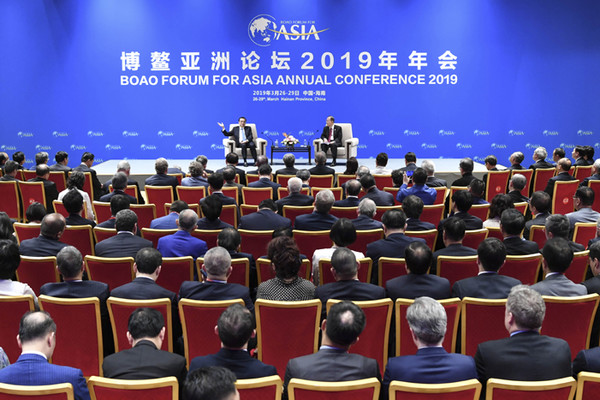 Resolve to develop hydrogenation facilities
Toyota Chairman Takeshi Uchiyamada, who accompanied Premier Li on his visit last May to Toyota's Hokkaido branch where hydrogen-powered and autonomous vehicles were exhibited, also attended the dialogue. He said he wants to know more about the Chinese government's opinions on hydrogen-powered and autonomous vehicles and his factory is expected to cooperate with China's automobile industry in these fields.
"Facilitating the building of hydrogenation facilities" is included in the Government Work Report this year, though it is short on description because of limited text length, which demonstrates China's willingness to encourage technological progress, including hydrogen energy, Premier Li said.
A new round of industrial and technological revolutions are flourishing, and China is actively implementing innovation-oriented development strategies, including supporting entrepreneurship and mass innovation, and fostering new drivers and new industries, such as artificial intelligence, autonomous vehicles and hydrogen energy, the Premier said.
Positive effects of new industries, industrial forms and technologies should be put in dominating positions, such as creating huge markets and bringing remarkable job opportunities, he added. For negative effects, these can be solved gradually.
Premier Li said Japanese enterprises are welcomed to do business in China to combine their mature technologies with the huge Chinese market. And, tailored products for Chinese customers are welcomed to achieve win-win results.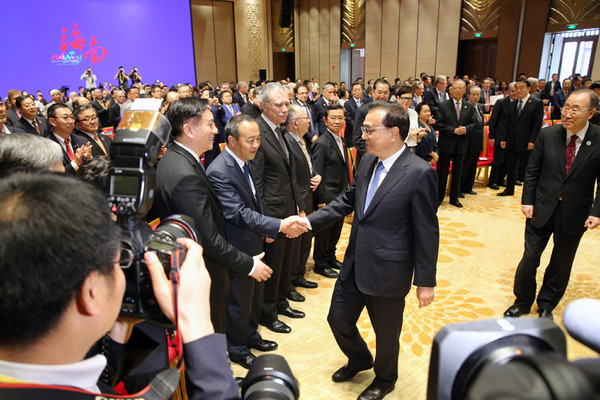 Efforts to resolve trade frictions continue
Han Yong Hong, an associate editor of Zaobao, a Chinese-language newspaper in Singapore, said that Asian countries are worried that China-US trade frictions will get out of control, and then they will have to take sides. Han asked the Premier to predict when the trade war will stop.
The Premier answered that he is not a fortune-teller, and nobody can predict what will happen in the next moment, but the general trend still can be grasped and perceived. He stressed China and the US are talking about trade frictions and both are making great efforts to achieve a mutually beneficial and win-win agreement.
He reiterated that Sino-American trade frictions will not make use of or damage third parties, who will not be made to take sides. Instead, an agreement benefiting all sides, including third parties, is the aim.
In terms of Han's question that whether large-scale tax and fee cuts can be delivered, the Premier said a total of 2 trillion yuan ($298 billion) in such deductions will be cut this year and work will be strengthened to make sure real benefits flow into enterprises' pockets and arbitrary fees are forbidden. No matter whether domestic or foreign companies, as long as they are registered in China, they will be treated equally to tax and fee reductions.
"Please trust the Chinese government's resolve and confidence," Premier Li said.