Premier Li Keqiang met with the Secretary General of the United Nations (UN) Antonio Guterres in Beijing on April 26.
Premier Li said it is more than ever before for the UN to play a core role in the current complicated international situation.
As a permanent member of the State Council and the largest developing country, China firmly upholds multilateralism, a UN-centered international system, and a multilateral trade system based on the World Trade Organization, he said.
Premier Li said world peace and development require compliance with the principles and spirit of the UN Charter, which will contribute to lasting peace, economic growth, and a good international environment for bilateral cooperation of all nations.
China, Premier Li said, supports UN to play a key role in international affairs, and is willing to maintain close cooperation with UN and its institutions.
China will also contribute its effort in the 2030 Agenda for Sustainable Development, South-South and South-North cooperation, climate change, and maintenance of world peace, stability, and prosperity.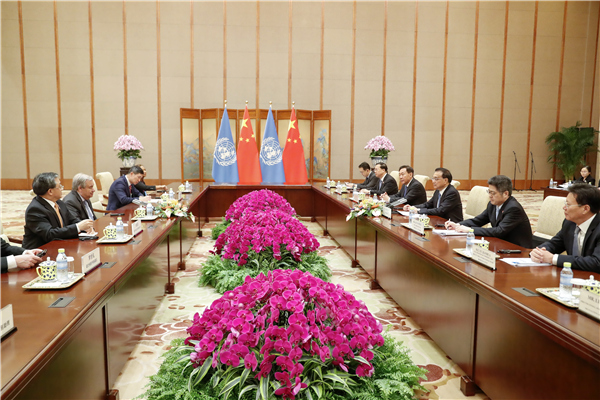 Guterres said multilateralism is currently facing serious challenges, and the world needs a multilateral system and cooperation to realize the 2030 Agenda for Sustainable Development, poverty reduction, campaign against climate change, and solutions of other serious tasks of the mankind.
China's Belt and Road Initiative could help achieve UN's development target, and cope with global challenges, which is an opportunity for all sides, Guterres said.