Premier Li Keqiang met with Greek President Prokopis Pavlopoulos at the Great Hall of the People on May 15.
Praising Greece for being a reliable partner of China in the EU, he said that President Xi Jinping has held fruitful talks with President Pavlopoulos, and the two leaders planned the development of bilateral relations for the future.
The Premier congratulated Greece, which has withdrawn from the assistance mechanism and resolved the argument over country name with North Macedonia that lasted for many years, before officially joining the China-Central and Eastern European Countries (CEEC) cooperation mechanism.
China would like to align its Belt and Road Initiative with the development strategy of Greece, and deepen pragmatic cooperation with Greece, CEECs as well as the EU on the basis of mutual respect and equality, injecting new vitality into China-Greece relations, cooperation between China and CEECs, and relations between China and Europe, the Premier added.
Noting that China and Greece are both ancient civilizations, the Premier called for exchanges and mutual learning among different civilizations to promote the development of human civilization.
"China's peaceful development road as well as reform and opening-up will continue," Premier Li said. "And we would like to join hands with countries including Greece to promote exchanges among different civilizations and create a peaceful and stable environment to develop the economy and improve people's livelihoods."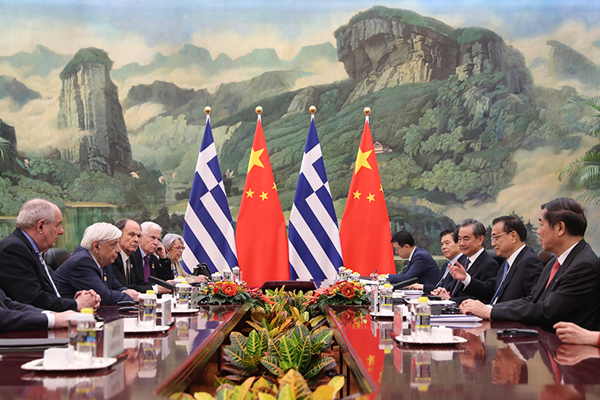 For his part, Pavlopoulos said Greece and China have many things in common, such as both countries being ancient civilizations, and that Greece is the origin of Western civilization, and the civilization should be peaceful.
"The theory of civilization clash is a major fallacy that cuts off the bridge of communication between civilizations and breeds barbarism and terrorism," he said.
He also hailed China's open attitude toward the world and the important contributions it made to the world in poverty reduction and climate change.
"Greece-China relations and cooperation are strong," he said, adding that Greece is willing to become China's gateway to Europe and to continue the Belt and Road cooperation on both land and sea.
Europe needs to deepen its cooperation with China and continue to play a global role, he added.
State Councilor Wang Yi and He Lifeng, head of the National Development and Reform Commission, also attended the meeting.