Premier Li Keqiang underscored tax and fee cuts to be in place and called for improved financial service during an inspection tour to East China's Shandong province from May 24 to 25.
With his concerns on the benefits gained by manufacturing enterprises through tax and fee cuts, Premier Li specifically requested the actual reductions on taxes and fees during his visit to the Weichai Group, a leading machinery manufacturer in Weifang city.
According to the introduction by the enterprise, it has used the gains from the reduction to reinvest in expanding production scale, strengthening R&D and staff training.
Premier Li stressed tax and fees cuts are keys to dealing with downward pressure and complex threats faced by the Chinese economy, which currently remains stable. And in the long run, reinforcing the implementation of policy can enhance development potential and foster new tax income.
Through a video conference with the R&D team, which includes both Chinese and foreign talents, Premier Li encouraged the enterprise to deepen international cooperation on innovation.
To conclude his visit, he urged staff members to adopt the spirit of craftsmanship to sharpen China's manufacturing's competitiveness, quality, brand and credibility.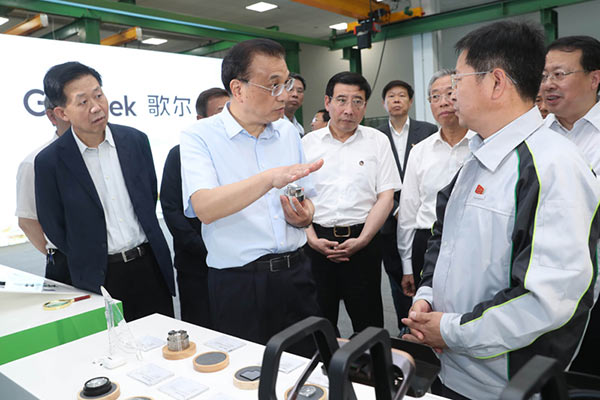 Premier Li also visited Goertek, a private company specializing in production and R&D of intelligent products.
According to officials in charge, some 100 million yuan ($14.49 million) of tax and fee cuts will be enjoyed this year and next year the number will be higher.
Premier Li made a tour in the plants and product display center to gain knowledge of the new products' functionality, which was compared to an international advanced level.
The Premier spoke highly of the enterprise's stress on innovation and R&D, and its efforts in exploring domestic and international markets.
In conclusion, he said China, with its huge market potential, should rely on its own efforts to strengthen technology, innovation and cooperation to win consumers and the market.
Besides, the government should enhance its policies on encouraging enterprises to invest more in R&D and innovation.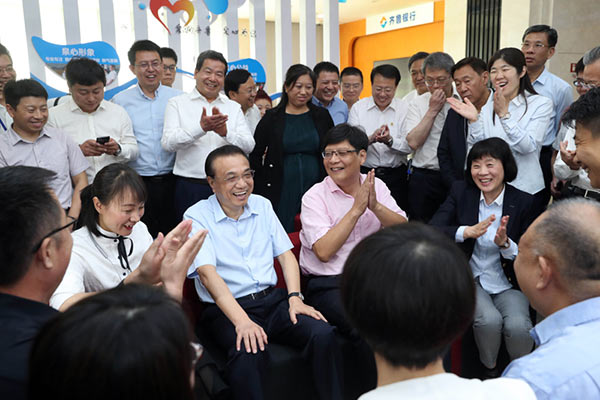 In Jinan, capital city of Shandong, Premier Li made a stop at Qilu Bank to inquire whether SMEs can get cheaper loans more easily. There he talked with corporate clients, and learned that financing difficulties have been solved to some extent with innovative service from banks.
Boasting large quantities and covering tremendous fields, SMEs are important to economic development, employment and people's livelihoods, as well as the survival of small and medium-sized banks, Premier Li said.
He urged banks to improve motivation and liability-exemption mechanisms to encourage more loans, make use of big data, and introduce more new types of financial products to give financial support to promising enterprises with good credit and with good records of paying taxes.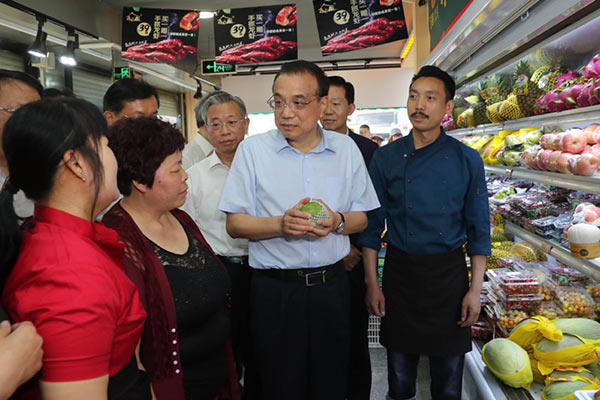 During the inspection, Premier Li walked into a fruit store, where he asked about cases and causes of price hikes, before telling accompanying officials to pay close attention to the prices of commodities that are involved in people's daily lives, and to secure adequate supplies at a reasonable price.
A report on the establishment of a pilot zone for the transformation of old and new growth engines also was heard. The Premier applauded Shandong's effort in economic and social development and urged the province to stick to Xi Jinping Thought on Socialism with Chinese Characteristics for a New Era, deepen reform and opening-up, withstand downward pressure, and to continue to play a big role in promoting smooth and high quality development of the country's economy.