BEIJING — Leading Party members with the State Council pledged to closely follow the Communist Party of China (CPC) Central Committee with Xi Jinping at the core on Jan 17.
At a meeting presided over by Premier Li Keqiang, the leading Party members' group of the State Council discussed work on full and rigorous Party management within the government.
The State Council will "firmly safeguard Xi's status as the core of the CPC Central Committee and the whole Party, and the authority and centralized, unified leadership of the CPC Central Committee," said the statement issued after the meeting.
The cabinet will strictly follow political discipline and fully implement decisions by the Party leadership in government work, the statement said.
The State Council will better discipline and encourage civil servants to be devoted and innovative.
Leading officials of the State Council should set an example of abiding by rules against undesirable work styles, refuse privileges and cut bureaucracy, the statement said.
The cabinet will root up corruption through reforms, such as simplifying administrative procedures, delegating powers and cutting tax and fees.
Improving transparency and supervision will be another means to curb corruption. The State Council decided to tighten up fiscal management, expand publicity of budgets, strictly oversee transactions involving public resources and State-owned enterprises.
Vice-Premiers Zhang Gaoli and Wang Yang attended the meeting.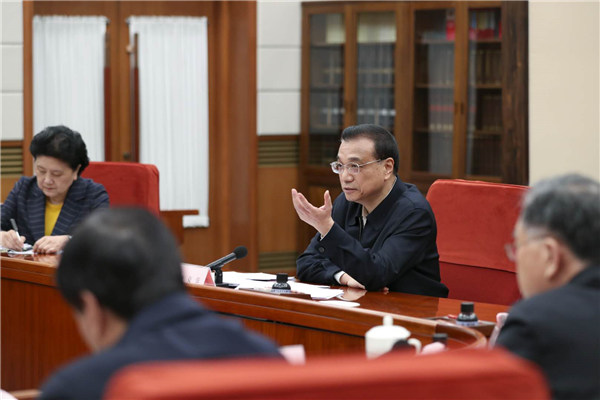 Premier Li Keqiang stresses strict Party discipline in the government at all levels at a State Council Party committee meeting on Jan 16.