Premier Li Keqiang visited a service center for enterprises in Zhangjiang, in the China (Shanghai) Pilot Free Trade Zone on April 10.
One of the biggest items on the Premier's schedule for this trip is to inspect the progress of streamlining administrative services, such as setting up an e-platform for accessing government services, which was brought up at a news conference in late March at the end of the annual meeting of the National People's Congress.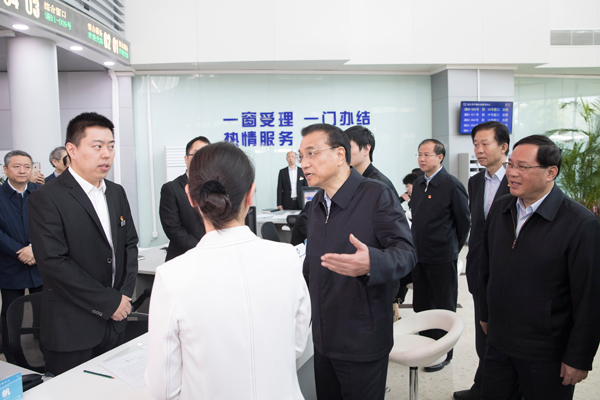 In the past, nearly 129 approval items from 18 departments needed to be processed at 99 service windows in the Shanghai FTZ, but now the local government is working toward processing all the approval items at a single window.
After seeing that, the Premier said that the "one e-platform for all" is a significant measure in transforming governments' functions. It saves people's time by data sharing.
"There are two main responsibilities of the government: One is to stimulate market vitality at the maximum, another is to facilitate administrative services as much as possible for the people," he added.