Premier Li Keqiang concluded his four-day visit to New Zealand on March 29. It was his first visit to the Oceania country, resulting in accomplishments highly praised by people from all walks of life.
Address at welcome banquet
Premier Li addressed a welcome banquet on March 28, stressing his concern about development of China-New Zealand relations and economic globalization represented by free trade and investment facilitation.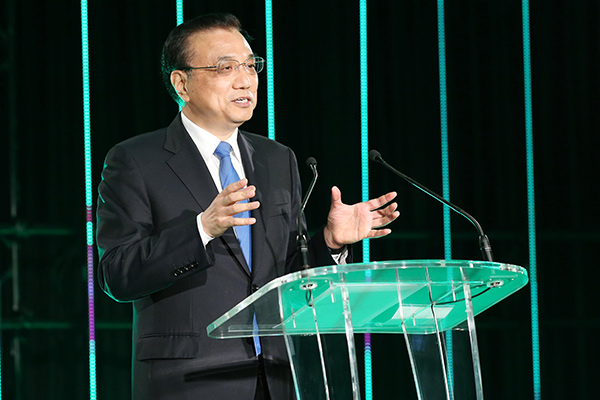 Premier Li addresses a welcome banquet on March 28 in Aukland. [Photo/Xinhua]
"We would like to work with New Zealand to build a community of common destiny for all mankind and improve global economic governance," said the Premier.
"China will continue to push for supply-side structural reform and firmly stick to strategies of opening-up," he added.
Yang Jian, a Chinese New Zealander and list member of New Zealand's parliament, praised the Premier's speech, saying his visit would be significant for enhancing mutual trust and pushing forward negotiations to upgrade the free trade agreement (FTA).
"Development of trade relations requires political mutual trust, and the two countries have a very solid foundation of political trust."
"It will help enhance China-New Zealand trade relations ... and I think it is a very successful visit," he said.
The Premier's visit resulted in many outcomes. He and New Zealand Prime Minister Bill English announced negotiations to upgrade FTA set for April 25 this year, and witnessed the signing of a memorandum of understanding on the Belt and Road Initiative.
The two countries will also mark the China-New Zealand Tourism Year in 2019.
Promote upgrading FTA
Premier Li talked to the media with English on March 27, saying the highlight of development in China-New Zealand relations in the past years is the signing of the FTA.
Premier Li and Bill English talk to the press on March 27. [Photo/Xinhua]
"The purpose of my visit is to enhance bilateral ties, especially to announce the upgrading of FTA," said the Premier. "It will give a boost to bilateral trade and remind the world of our position in safeguarding free trade."
Arthur Loo, a well-known expert in China-New Zealand relations, said it was exciting that Premier Li's visit would consolidate increasingly close bilateral relations.
"More important, we signed the FTA 10 years ago, and at last the negotiation for upgrading will start soon," Loo said.
According to a commentary in the New Zealand Herald on March 27, since the FTA took effect in 2008, trade volume between the two countries has doubled and reached 23 billion New Zealand dollars.
The FTA signing offered a huge advantage for New Zealand's exporters. "The value of free trade was more important than ever, and upgrading it would be a landmark achievement for development of China-New Zealand relations," said New Zealand Trade Minister Todd McClay.
Visit to Fisher & Paykel and Haier's R & D center
On March 28, Premier Li visited an R & D center in Auckland started by Haier and New Zealand's Fisher & Paykel.
Fisher & Paykel is New Zealand's biggest household appliances producer. In August 2014, the two companies collaborated on establishing the R & D center, which has developed many world-leading household appliances.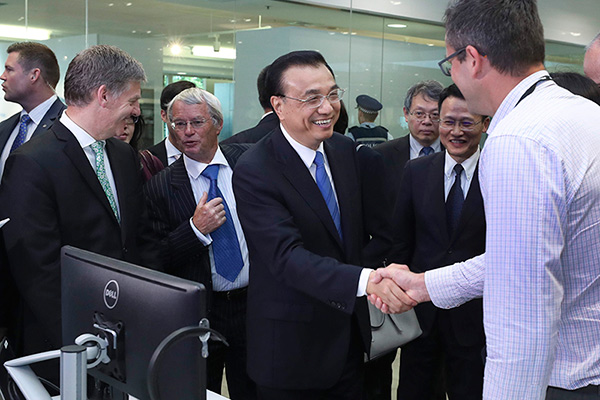 Premier Li and Bill English visit a home appliance research center jointly started by Fisher & Paykel and Haier in Auckland on March 28. [Photo/Xinhua]
Premier Li inquired about technologies and showed his interest in features such as saving energy, low noise, high efficiency and artificial intelligence.
China and New Zealand have the ability to work together with complementary advantages to develop world-leading products, said the Premier.
Lu Bo, a commentator in New Zealand, said the Chinese government grasped the opportunity and showed a good performance amid the rising voice against globalization. "Whether New Zealand's media, commercial and political circles, or Chinese New Zealanders, seemed to be satisfied."
"I feel that the Chinese government did well indeed in dealing with diplomatic and trade affairs, and actively going global under today's complex and volatile situation," Bo added.