On Feb 12 and 13, Premier Li Keqiang visited Zhenlai county, Northeast China's Jilin province, and extended Spring Festival greetings to local residents.
At a local fair, the Premier was told by some vendors that their sales are better than before because of e-commerce, and said that e-commerce not only belongs to urban residents, but also brings convenience to the lives of rural people. The consumption potential can be fully unleashed, he added.
Premier Li sent Spring Festival greetings to poor families during his visit to Yinghua village in Zhenlai county. The county is part of a poverty-stricken area south of the Greater Khingan Range.
He asked them about their daily lives, income sources and medical insurance coverage rate.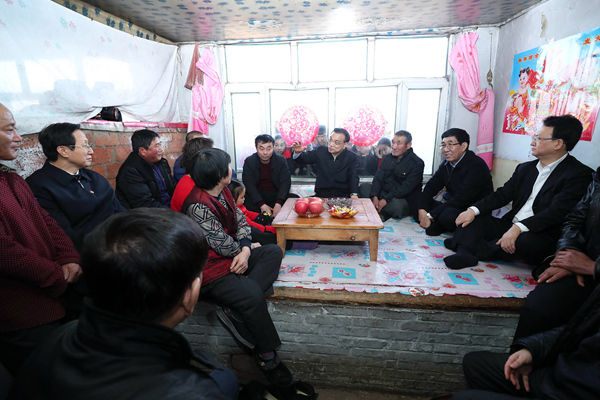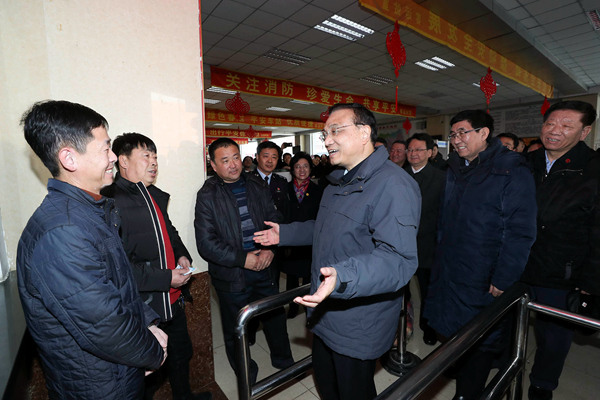 Local migrant workers told Premier Li that they were able to support their children's education by working in cities, and a university student said he would bring his parents to live in the city in the future. Premier praised their intelligence and care with their families.
A graduate said that in the course of mass entrepreneurship and innovation, he and his classmates would be able to find jobs after graduation. Premier Li said it was not easy for them to get employed, as there are 8 million students who graduate every year.
Premier Li encouraged villagers running the cooperative to increase their income sources and urged local governments to intensify policy support to help villagers shake off poverty.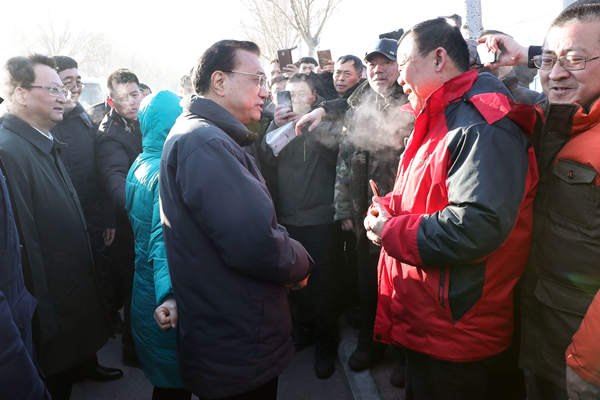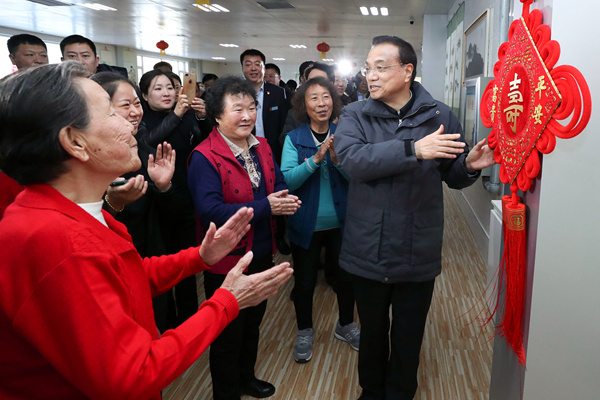 At a bus station in the county, the Premier met and talked with migrant workers returning to their hometowns.
He asked them if they had received their pay. Those who default on paying wages to workers should be severely punished and blacklisted, he said.
During his visit, Premier Li also expressed concerns to sanitation workers who were working outdoors, appreciating them for bringing a new and clean Spring Festival to citizens.
Premier Li also looked in on the lives of needy residents during his inspection. He visited a shantytown set for renovation, understanding residents' difficulties and urging that an aid mechanism be put in place. At a welfare home, the Premier sent new clothes to the seniors along with Lunar New Year wishes. He called for all parties, including governments, society and involved families, to contribute to ensuring an enjoyable life for older people.
During the inspection, Premier Li commended the steady and positive progress Jilin province has made in economic and social development in the past few years. It showed that rejuvenation of old industrial bases in Northeast China is promising, he added.
The Premier also urged great efforts in achieving full revitalization of the northeast region.