At the April 12 State Council executive meeting presided over by Premier Li Keqiang, more moves were made to grant zero-tariff treatment to anti-cancer drugs and stimulate importing new drugs.
The decision was made after he presented the promise at the news conference following the conclusion of the annual legislative session in March.
It was not enough to reduce the tariff to zero, Premier Li said. The price of anti-cancer drugs should be marked down in a comprehensive manner to benefit patients, he added.
Premier Li said cancer has become the "No 1 killer" of people, and no efforts should be spared to cure and treat patients and relieve burdens on their families.
During a special April 10 visit to the jointly owned anti-cancer pharmaceutical firm Roche in Shanghai, he also showed his concern for drug prices.
He said that by way of government procurement and expansion of medical insurance coverage, Roche could set favorable prices on medicines for grave diseases to benefit patients.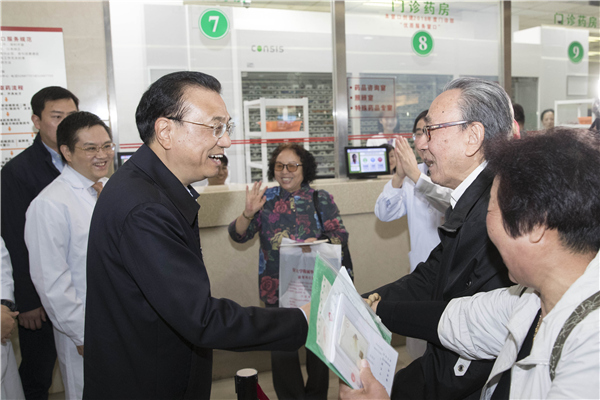 According to the State Council executive meeting, zero-tariff treatment will be granted to all ordinary drugs, including anti-cancer drugs, starting May 1, and the tax burden of VAT (value-added tax) related to production and import of anti-cancer drugs will be greatly reduced.
The meeting also decided to adopt government procurement and include imported novel drugs, especially anti-cancer drugs in the public medical insurance system, to contain undesirable markups.
"Related departments should make coordination and release measures on production, circulation and material imports, in an effort to reduce drug prices," Premier Li said. "We can start with those anti-cancer drugs in great demand, so patients can really feel the price drop."
At Huashan Hospital in Shanghai on April 11, an official told Premier Li that the HPV cervical cancer vaccine is greatly needed. There is a basic supply of the second type of this vaccine and the fourth type needs an appointment, while the ninth type has not come into the market yet, so people need to go beyond the border to get vaccinated.
Premier Li said relative authorities must accelerate the approval process to introduce the newest types of anti-cancer vaccines as soon as possible.
In an effort to do so, the executive meeting of the State Council on April 12 decided to accelerate the pace of new drugs into the market. Clinical trial applications should be deemed automatically approved over a certain period of time.
Meanwhile, imported chemical drugs can be cleared by Customs based on test results provided by enterprises, without compulsory inspection.
At the meeting, Premier Li urged a faster pace for new imported drugs to enter the market, especially those for cancer treatment. Time is life, he stressed.
"Related departments must accelerate their work related to people's life and health, and reduce burdens for patients and their families as much as possible," Premier Li said.