During his visit to a middle school in Yinchuan, the capital of Northwest China's Ningxia Hui autonomous region, on June 4, Premier Li Keqiang said that online education greatly broadened students' horizons.
Premier Li inspected Minning Middle School in Yongning county of Yinchuan, and the local development of Internet Plus education.
By introducing the public services platform for education resources, nearly all primary and middle schools in the autonomous region have connected to the internet.
In the "smart classroom" of the school, all of the students held a tablet PC, showing the Premier their online lessons and study notes.
Premier Li said Internet Plus education enabled students in remote and poor areas to get access to good teachers, and broadened their horizons.
The government should invest more to improve the information infrastructure and increase internet speed, he said.
Internet Plus education would be an efficient way to achieve fairness in education, he added.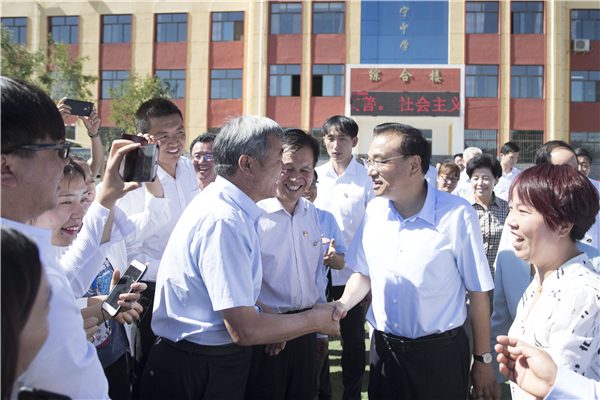 While talking with the teachers, Premier Li said the average wage of teachers working in compulsory education should be no less than that of local public servants.
The Premier asked about their salaries, and said their wage level was protected by national laws.
As the mentors for students, teachers, especially those working in compulsory education, should be respected by society, and their fair treatment should also be guaranteed, said Premier Li.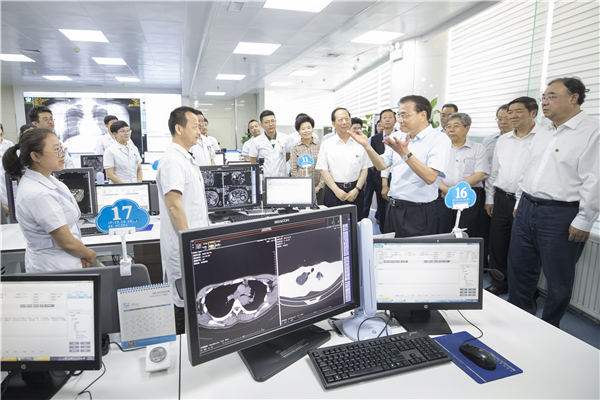 Premier Li also went to the first people's hospital of Yinchuan to inspect Internet Plus healthcare during his tour to the autonomous region.
In recent years, Ningxia has developed their remote diagnosis system that makes high-quality health services easily accessible. Before, some patients had to go to Beijing or the provincial capital Yinchuan to see a better doctor, but now they can receive quality healthcare services remotely, according to a local official.
The Premier said that Internet Plus healthcare not only brings convenience to patients, but also promotes fairness, spreading superior healthcare resources to more people.
He hoped that Ningxia can take the lead in constructing an Internet Plus healthcare demonstration zone to benefit surrounding areas and ethnic groups, adding that the government will provide support in this regard.