Premier Li Keqiang visited the cities of Hengyang and Changsha in Central China's Hunan province on June 11 and 12.
Premier Li inspected grain production at Baishui village in Hengnan county, Hengyang city.
He asked for details about average yield and revenue, and talked with farmers to learn how much crop should be planted to achieve the break-even point.
He said efforts should be made to support agriculture, improving such infrastructure areas as water conservancy facilities. It is of vital importance to feed the over 1.3 billion population, he said.
The Premier encouraged farmers to explore various forms of operation according to different farmland conditions, improve the quality of agricultural production, and roll out various measures to increase the earnings of farmers and encourage their motivation.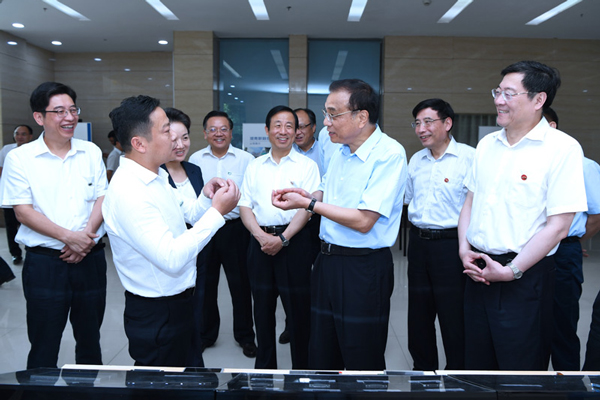 Premier Li visited the Baishazhou Industrial Zone in Hengyang city, and heard a report on industry transfer in Hunan province, especially the southern region.
He said the industry transfer from East China to the central and western regions is an undertaking in line with economic rules, and conducive to balanced and coordinated development.
Premier Li called on local authorities to promote orderly industry transfer. Facing fierce competition, industry transfer should rely more on a benign business environment than preferential policies, he added.
He encouraged the local government to deepen administrative reform and improve government services, to stimulate market vitality and take the lead in industry transfer.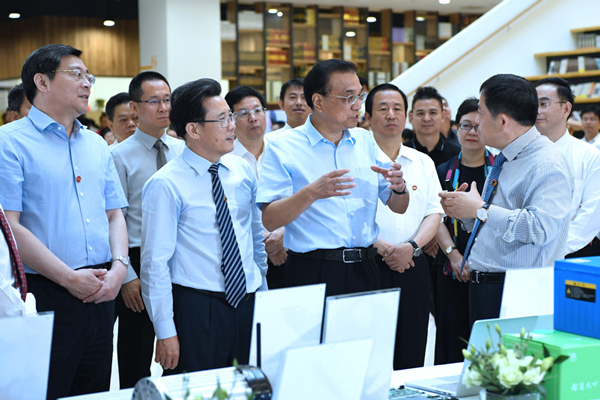 Premier Li visited Sany Heavy Industry and encouraged enterprises to manufacture more personalized products with core competitiveness to step toward the forefront of high-end manufacturing around the globe.
After hearing about the "excavator index", an index created by Sany Group that is based on an industrial internet platform that connects about 380,000 sets of industrial equipment, Premier Li asked the enterprise to conduct further analysis on the country's performance in infrastructure construction indicated by the index.
The Premier praised the enterprise for establishing the industrial cloud platform, combining internal maker space with external resources, and stimulating innovation in a cost-efficient way.
He called for efforts to develop open and shared industrial internet platforms, gather talented people with the new mechanism, promote specific and inclusive development of large, middle-sized and small enterprises, and upgrade the mass entrepreneurship and innovation initiative.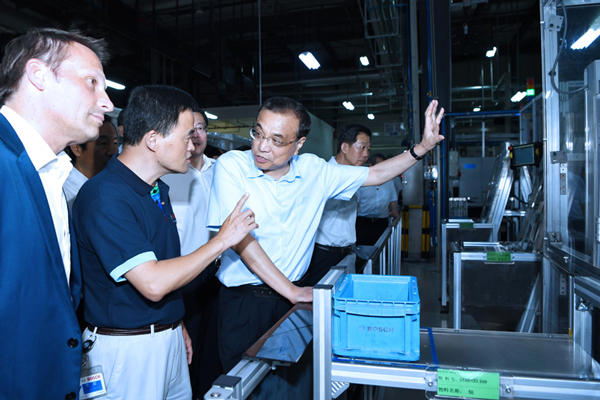 In a visit to a company with foreign investment, Bosch Automotive Products in Changsha, he inquired about the smart upgrade of production lines, and said he hoped Bosch Group will continue to increase investment in China.
Premier Li said the Chinese government treats foreign and domestic enterprises equally, and welcomes foreign enterprises to expand investment in China.
China treats the high-end manufacturing industry from all countries with an open-minded attitude, and is willing to strengthen cooperation in areas such as automatic driving projects.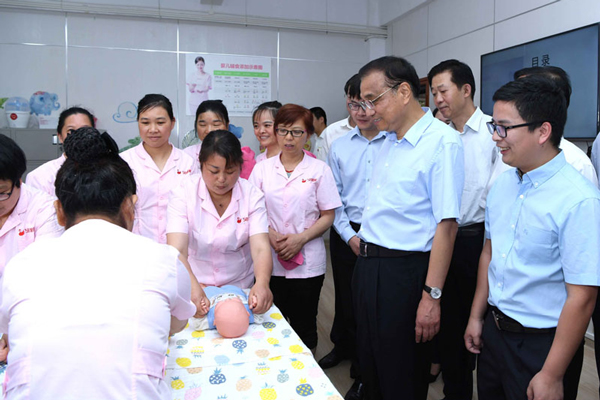 Premier Li inspected the employment situation at 58 Group, an internet-based company.
He showed his concerns about the employment of graduates and migrant workers, saying employment lays the foundation for a country's development and the people's well-being.
The Premier called for Internet Plus livelihoods, sharing economy and other new-type businesses, to create more jobs and meet people's upgrading consumption demands.
He also inspected housekeeping service training, and encouraged housekeeping workers to solve people's daily problems through professional services.
Premier Li praised Hunan province for its achievements in economic and social development, and asked local governments to advance high-quality economic development.
Xiao Jie, state councilor and secretary-general of the State Council, visited Hunan province with Premier Li.