Premier Li Keqiang met with Jean-Yves Le Drian, French minister of Europe and foreign affairs, in Beijing on Sept 14.
Le Drian will attend the 25th meeting of the Joint Committee of China-France Trade and Economic Cooperation in China.
France is an important member of the European Union, the Premier said, adding that China-France relations transcend the two countries, and are of great influence in the world.
Cooperation between the two countries in various fields is steadily advancing. It's been 30 years since the establishment of nuclear power cooperation between the two sides, and breakthroughs have been made in third-generation nuclear power cooperation this year, Premier Li noted.
The Premier said there is huge potential for mutual benefits and win-win development between China and France, and China is willing to promote all-around pragmatic cooperation with France, establishing relations that benefit the people of both sides.
As major economies in the world and permanent members of the United Nations Security Council, China and France should make joint efforts in promoting the stability, development and prosperity of the world in the current situation, according to the Premier.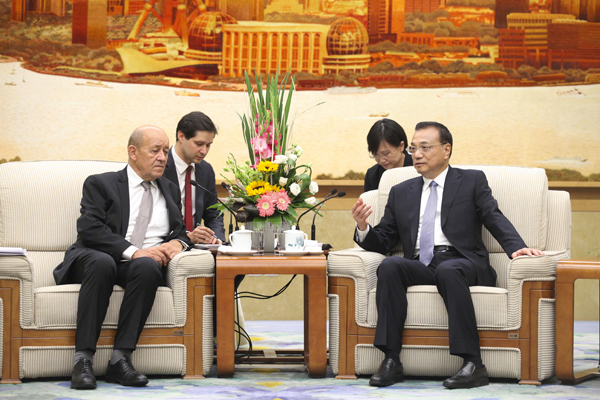 Le Drian said that cooperation between France and China is of epoch-making significance amid complicated and volatile international situations.
Both France and China support multilateralism, and are willing to resolve differences politically, he said, adding that France is ready to strengthen strategic communication and pragmatic cooperation with China.