Premier Li Keqiang met with Executive Chairman of the World Economic Forum (WEF) Klaus Schwab in Tianjin on Sept 19.
The cooperation between China and WEF not only offers a platform for communication between Chinese and foreign business communities, but also opens a window for the world to learn more about China, according to the Premier.
Noting that 11 sessions of Summer Davos were successfully held, Premier Li said China is willing to work with WEF and other parties to discuss common issues facing the global economy and further improve the global governance system to promote common development and prosperity.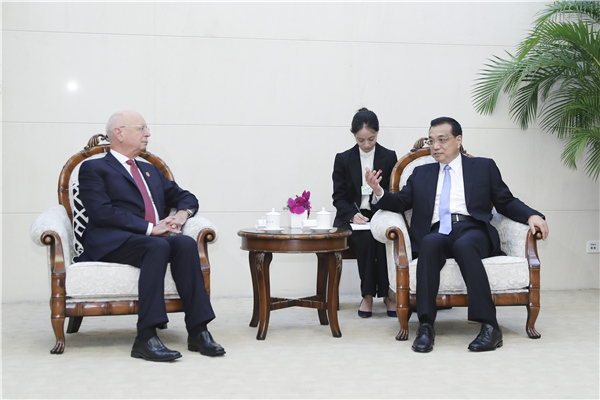 As the new round of industrial revolution and technical innovation brings more opportunities and challenges, the Premier said, all parties should work together to promote inclusive growth of the world economy.
He also called for all nations to jointly safeguard multilateralism and free trade, to create a sound macro-environment for global economic recovery and stable growth.
For his part, Schwab said this year's Summer Davos, the largest one so far, demonstrated the great attention of all sides to the forum.
The World Economic Forum supports globalization and multilateralism, promotes a rule-based global governance structure, and is willing to increase cooperation with China, he added.