Premier Li Keqiang said that he believed there will be qualified foreign enterprises that get all licenses and shares for business operation after three years.
He made the remark when answering questions proposed by entrepreneur representatives from home and abroad, who came for the 2018 Summer Davos Forum in Tianjin on Sept 20.
Illumina Chief Executive Jay Flatley asked, "China has achieved some breakthroughs in the opening-up of the financial sector in recent years. However, foreign financial institutions operating in China are still faced with many restrictions. Is there a schedule for China's financial opening-up? What opportunities will be created for foreign enterprises?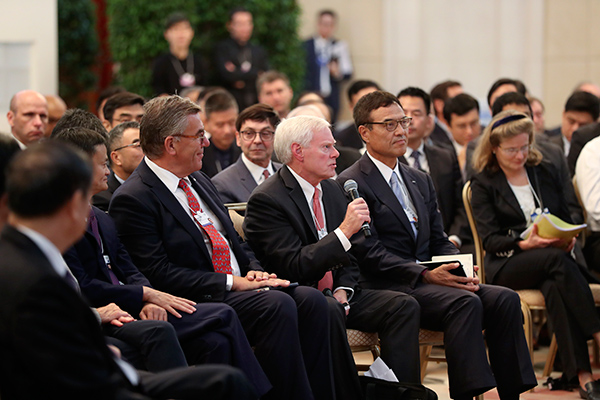 Premier Li said that 2018 marks the 40th anniversary of China's reform and opening-up. If we review the past 40 years, we will see the intensity and coverage of China's opening-up far exceeded our expectations, he said. China has benefited from opening-up, and will continue to expand it, the Premier said.
China ranks among the top in terms of trade in goods, and has a surplus in the trade of goods in a certain period of time; but runs a deficit in the trade of services. The deficit is growing every year. Financial service trade is among the deficit category.
From our point of view, both surpluses and deficits are mainly caused by the differences in the international labor division and industrial chain. We never pursue trading surpluses, and we also envision trading deficits. Though there may be more deficits, China will open its service industry without hesitation. This was decided after we weighed the advantages and disadvantages, as it will not only improve the competence of our enterprises, but also bring more choices for customers.
The financial service industry is a special sector. Its openness is closely related to the developing phase and supervision ability of a country. Being the second-largest economy in the world, China must maintaining stable finances for both itself and the world. Therefore, we decided to continue opening-up the financial service industry in an orderly way.
China will comprehensively open the financial service sector in the next few years. Now we have eliminated share ratio restrictions on foreign investment in the banking industry. In the next years, we will cancel share ratio limits for qualified enterprises in fields such as insurance and securities.
We are willing to offer pre-establishment national treatment for foreign capital entering China's financial sector, the Premier said.