China's economy has made steady progress and the major objectives and tasks of this year will be accomplished, Premier Li Keqiang said.
The Premier made the remarks recently at a seminar on the state of the Chinese economy in Nanjing, East China's Jiangsu province.
Over the year, China has upheld the underlying principle of pursuing progress while ensuring stability, and has taken multi-pronged measures to maintain steady growth, promote reform, adjust economic structure, improve people's well-being, and guard against risks. Meanwhile, the Chinese economy has achieved steady development, the Premier said.
Against the backdrop of challenging and complex environments both at home and abroad, and facing mounting downward pressure on the economy, the government should be fully aware of the difficulties and problems ahead, according to the Premier.
The government must firmly pursue deepening reform and opening-up, strengthen the driving force of development, continue to maintain steady growth and boost high-quality development, he said.
Government chiefs of Jiangsu, Heilongjiang, Henan, Hubei, Guangdong, Sichuan provinces and Guangxi Zhuang autonomous region reported their economic situation to the Premier and gave their suggestions at the seminar.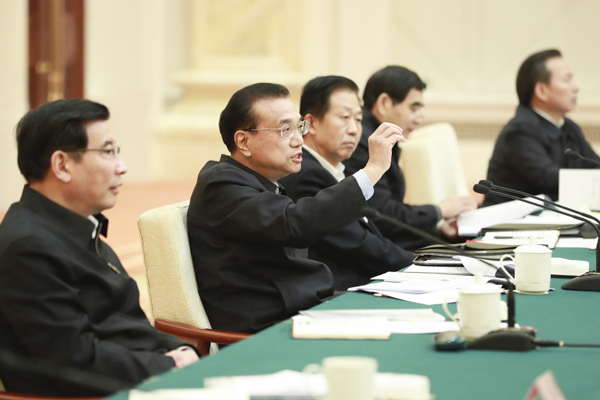 Macro policies should be maintained with continuity and stability and be improved according to market needs, the Premier said, adding that adjustments should be made with proper degrees to stabilize market expectation.
The government should continue its primary work on supply-side structural reform, with focuses on manufacturing and service industries, especially in small and micro enterprises and private firms of the real economy. Suggestions from different sides are welcome to refine policies on tax and fee cuts.
Domestic demand can be expanded with moderate measures to adapt to the needs of the market. Meanwhile, the consumption supply should be upgraded to release more potential for consumption.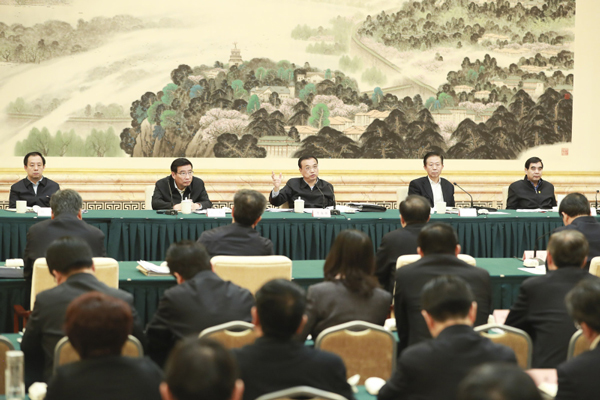 Effective investment can be increased by making up weak links, adjusting structure and increasing sustainable momentum. Governments should leverage funds with higher efficiency and lower the threshold for private investment to stir up social investment.
Moreover, eligible major projects beneficial to economic development and people's well-being should be given a green light to start at an early date to exert their positive influence as soon as possible.
In addition, governments at all levels should put employment high on their agenda, because it can bring in economic growth and social stability.
Governments should put themselves in the shoes of market entities, deepening administrative reform and creating a business environment that features convenience, efficiency, stability, transparency and fairness, which is significant when facing economic challenges.
China possesses abundant industrious and intelligent labors and talents, the Premier said. If they can release all their vitality and creativity, the Chinese economy will advance with everlasting stability and health.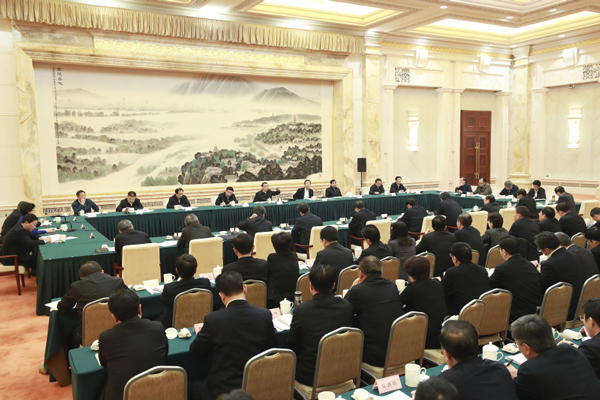 Premier Li called on all regions and departments to engage in big-picture thinking and strengthen awareness of responsibilities and work diligently for the well-being of the people.
They are asked to make more efforts and put up more good policies and practical measures to promote reform and opening-up, as well as innovation, boost upgraded development and guarantee and improve people's livelihood.
Departments should actively create conditions for local development and policies should be implemented based on local conditions, Premier Li said.
Local governments should work with creative ideas in light of local conditions and give full play to the strength of China's economy in having a lot of room for maneuvering and strong resilience to ensure China's economy is operating within a reasonable range. They also should consolidate the long term positive development trend, said Premier Li.
State Councilor Xiao Jie also attended the seminar.