Premier Li Keqiang will pay official visits to Kyrgyzstan, Kazakhstan, Latvia, and Russia from Nov 2 to 9. He will also attend the 15th SCO prime ministers' meeting, the Fifth Summit of China and CEE Countries, and regular prime ministers meetings.
Premier Li Keqiang made five proposals for practical cooperation between China and Central and Eastern European countries on Nov 5 in Riga.
China's relations with the CEE region at large are expected to grow in leaps and bounds, as Premier Li's visit has injected fresh impetus into their already effective cooperation.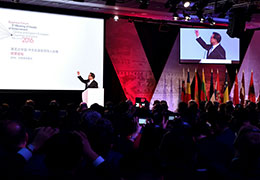 Premier Li put forward four principles guiding "16+1" cooperation during his keynote speech on Nov 5 at the Sixth China-CEEC Economic and Trade Forum in Riga.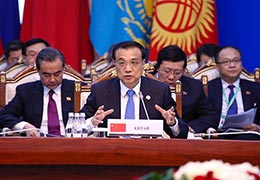 The 15th SCO prime ministers' meeting concluded with a six-pronged proposal by Premier Li and a joint communiqué.
China is willing to work with Russia to synergize the Belt and Road Initiative and the Eurasian Economic Union (EEU), and lift the levels of China-Russia ties and cooperation.
At the 21st China-Russia Prime Ministers' Regular Meeting in St. Petersburg, Russia on Nov 7, 2016
The supportive role of financial cooperation should be fully exerted in order to explore new opportunities in green economy.
During the 5th China-CEE Summit in Latvia on Nov 5, 2016
China is willing to promote exchanges at all levels with Latvia to raise Sino-Latvian ties to a new level.
During talks with Latvian Prime Minister Maris Kucinskis in Riga on Nov 4
IN FOCUS