Premier Li Keqiang met with Samoan Prime Minister Tuilaepa on Sept 19 in Tianjin.
Samoa, Premier Li said, was one of the first Pacific island countries that established diplomatic relations with China, adding that bilateral ties between the two nations have witnessed significant development.
China values the relationship with Samoa, appreciates its firm stand on the one-China policy, and supports the nation in its own development path, he said.
According to the Premier, China is willing to connect the Belt and Road Initiative with Samoa's development strategy, and create more cooperation opportunities in trade, investment, and infrastructure construction.
He said that the two sides should work on their own advantages to strengthen cooperation in seaports and tourism, and take more measures to promote people-to-people exchanges and deepen their friendship.
China has attached great importance to the reasonable demands of Pacific island countries in addressing climate changes, and will continue to push forward the effective implementation of the Paris Agreement, Premier Li said.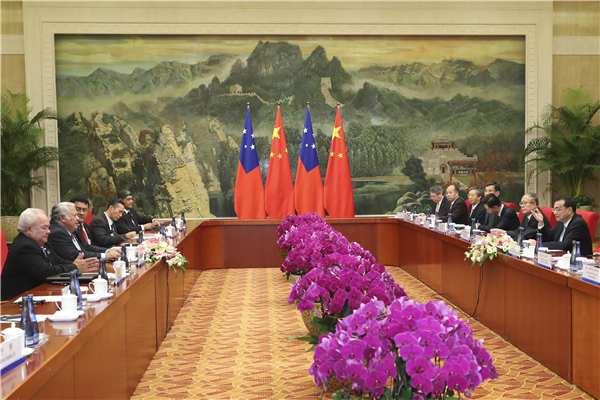 "We are willing to coordinate with Samoa under the framework of the United Nations and Pacific Islands Forum, and maintain the common interests of developing nations," he said.
For his part, Tuilaepa said China and Samoa are close friends, and Samoa appreciates China's support to the nation for years.
The Belt and Road Initiative plays a positive role in promoting trade, tourism, and cultural exchanges, and he expects that the two nations will sign a memorandum of understanding on cooperation, and build a closer strategic partnership, Tuilaepa said.
After the meeting, the two leaders witnessed the signing of several cooperation agreements.