Premier Li Keqiang called on efforts to promote stable and high-quality economic development when visiting Nantong and Nanjing cities in Jiangsu province from Nov 29 to 30.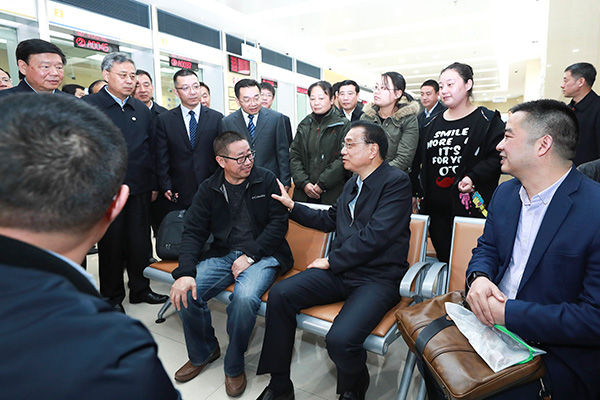 In the Nantong Chongchuan branch of the Bank of Jiangsu, Premier Li said policies to support private enterprises and small and micro enterprises should be implemented.
Private as well as small and micro enterprises are the main job creators, which stabilizes the employment sector and invigorates the market, he added.
Premier Li said big clients should not be the focus when providing loans and small and micro enterprise customers should be developed to help them finance and reduce costs.
Banks' support for small and micro enterprises is an investment in their tomorrow, Premier Li said.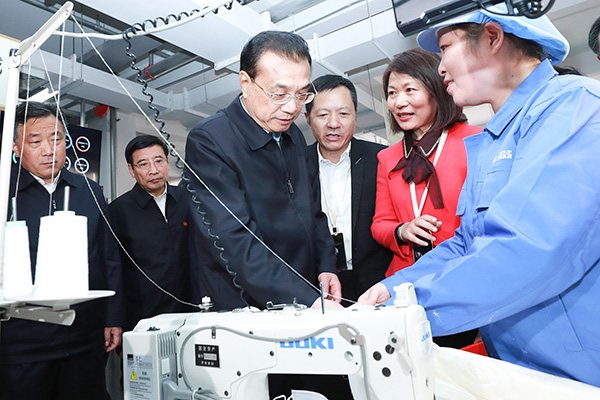 The Premier visited a textile company, Luolai Lifestyle Technology Co, and praised its continuous efforts in innovation.
On seeing that the company was applying smart manufacturing and green technologies in production, he said although the home textiles industry is deemed a traditional industry, it will not fall behind and certainly have a market share as long as the trends of consumption upgrading can be kept with continuous innovation.
He inquired about employment of migrant workers in the company, saying that migrant workers deserve the respect of all Chinese people and even the whole world.
China's progress in the past decades is built on the hard work of the Chinese people, especially the migrant workers, he said.
The Premier said enterprises must not delay paying wages to migrant workers, and their income should be increased with enterprises' growth.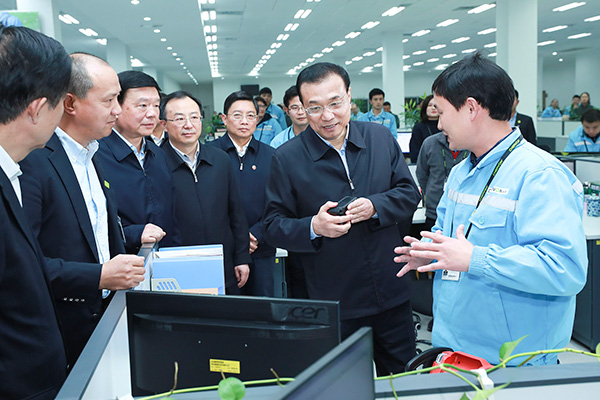 At the import and export enterprise Nanjing Chervon Industry, the Premier was informed about product innovation and orders. According to a person in charge, the company is competitive in international market for its reputable brand.
Facing complicated and changing domestic and international circumstances, efforts should be made to exert advantages, such as lower labor cost and broad market, said the Premier. Meanwhile, the dominant position in talent scale should also be used to strengthen innovation and build brands in aims to form competitive advantages and head for middle and high-end development among challenges.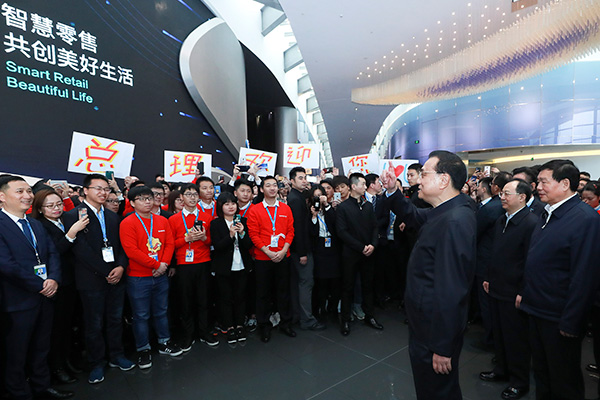 While visiting Suning Holdings Group, Premier Li praised its efforts in accelerating business transformation and meeting customers' diversified needs.
Consumption market in China has huge potential and efforts should be made to innovate modes to upgrade real stores and promote the integration of online and offline platforms, said the Premier.
He expressed the hope that the company could provide qualified products and satisfactory services through smart logistics and cloud technology.
Premier Li also had a video talk with a retail business owner of the company and wished him success in business running through Internet Plus.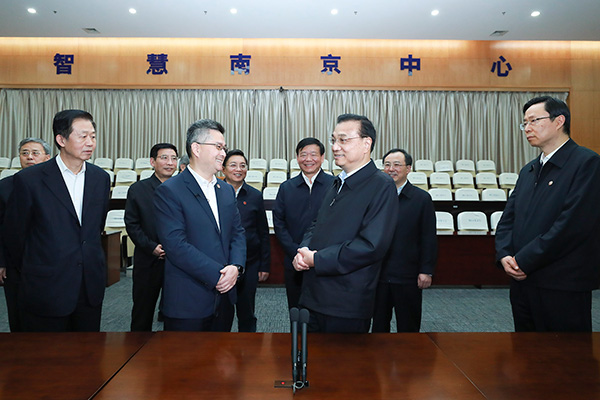 At the "Smart Nanjing" - a government affairs center that provides online government service by sharing information and data from different departments via the internet, Premier Li praised the innovative practice in administrative reform, saying it greatly supports economic development of the province and local peoples' lives.
He expressed his hope that Jiangsu could make more efforts in improving business environment, and keep a front runner in deepening such reform.