Premier Li Keqiang attended a series of leaders' meetings on East Asia cooperation from Nov 12 to 14 in Myanmar. The meetings include 17th China-ASEAN leaders' meeting; 17th ASEAN-China, Japan and ROK leaders' meeting; and 9th East Asia Summit.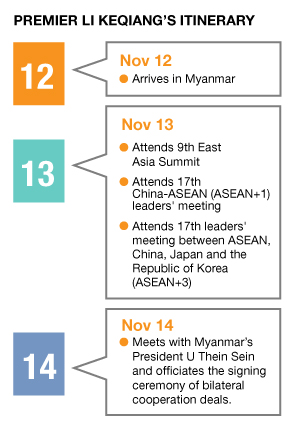 China is willing to work with ASEAN to make the South China Sea a sea of peace, a sea of friendship and a sea of cooperation.
Speaking at the 17th China-ASEAN leaders' meeting in Nay Pyi Taw, Myanmar, on Nov 13, 2014
China is a staunch force for peace in East Asia and China supports ASEAN in playing a positive role in regional stability.
Premier's article published in Indonesia's newspaper The Jakarta Post on Nov 11 before he leaves for a series of East Asia leaders' meetings and for a visit to Myanmar
PREVIOUS VISITS