Premier Li Keqiang will pay an official visit to the Republic of Korea (ROK) from Oct 31 to Nov 2 and attend the sixth trilateral summit between China, Japan and the ROK in Seoul as part of the visit.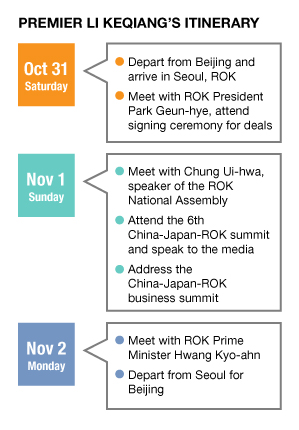 Mr Lee (Chang-ho) is good at reversing disadvantageous situations, which shows that young people can always catch up with the older generation.
At the China-ROK Young Leaders Forum in Seoul on Nov 2
There are no borders in entrepreneurship and innovation. China and the ROK should grasp the opportunity of the global technology revolution to upgrade domestic industries.
During a visit to the Gyeonggi Center for Creative Economy and Innovation in Gyeonggi-do on Nov 2
IN FOCUS