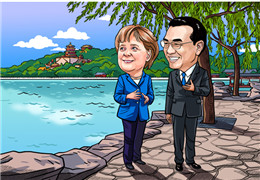 A special meeting was arranged between Premier Li Keqiang and German Chancellor Angela Merkel at the beginning of Merkel's visit to China on June 12.
German Chancellor Angela Merkel's ongoing visit to China is focused on how the two countries can deepen economic relations and help boost a flagging global economy.
We will take various measures to further expand the opening-up, creating a fair, transparent and attractive investment environment for domestic and foreign investors and German enterprises.
At a joint news conference with German Chancellor Angela Merkel on June 13
China welcomes foreign investment from all countries, in particular Germany, and I hope China and Germany will strengthen communication and cooperation among G20 member states.
Meeting with visiting German Chancellor Angela Merkel on June 12